Vive L'Amerique !
Exhibition: 6 Feb – 15 Mar 2014

Galerie Edwynn Houk
Stockerstr. 33
8002 Zürich
+41 (0)44-2026925
zuerich@houkgallery.com
www.houkgallery.com
Tue-Fri 11-18 . Sat 11-17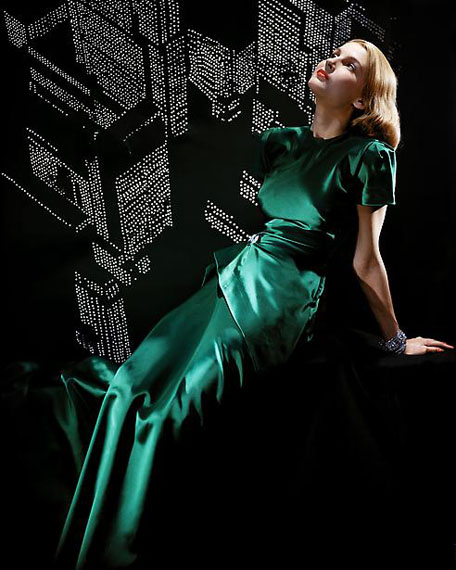 Erwin Blumenfeld
"Vive L'Amerique !"

Exhibition: February 6 - March 15, 2014
Galerie Edwynn Houk is pleased to present in Zürich our first exhibition of works by the renowned fashion photographer, Erwin Blumenfeld (1897-1969), from 30 January through 15 March 2014. This exhibition will feature 10 prints from two color portfolios, Vive L'Amerique! and Vive L'Amerique!!, published by the photographer's estate, providing an opportunity to view the groundbreaking works by Blumenfeld that have proven to influence the course of fashion photography.

Erwin Blumenfeld is considered to be one of the early pioneers of fashion photography alongside George Hoyningen-Heune, Cecil Beaton, and Horst P. Horst. It was not only his employment of experimental techniques in the darkroom, Dada and Surrealist influences, and novel street work, but Blumenfeld's unique and masterly combination of elegance and eroticism that transformed fashion into high art and paved the way for Richard Avedon, Irving Penn, Herb Ritts, and other photographers who enjoyed such prominence and recognition in the history of art.

In addition to holding the record for the most covers of Vogue, Blumenfeld's works were abundantly reproduced within the pages of Cosmopolitan, Harper's Bazaar, Life and Vogue during the 1930's, 40's and 50's. Some of the images from these shoots will be featured in this exhibition and have since become icons of the history of fashion photography. In his retrospective examination of Blumenfeld's work, William Ewing writes, "His highly original and visionary work was a seamless blend of the negative and positive: taking the picture in the studio and making it in the darkroom." The images from the two portfolios on view showcase this level of innovation perfectly. These prints illustrate Blumenfeld's early and seemingly effortless shift to color photography upon his arrival in United States where he found this technology to be already more advanced and accessible. It gave him the opportunity to experiment on the forefront of color photography, often applying inventive tools and techniques he had developed earlier when still working in black and white, producing color images of a sustained contemporary aesthetic and iconic status. Not surprisingly, it is this post-war body of work that is most prominently featured in the concurrent retrospective of Blumenfeld's artistic career at the Galerie nationale du Jeu de Paume in Paris.

Erwin Blumenfeld was born in Berlin in 1897, and as a young man he moved to Amsterdam. It was there, while keeping a leather goods shop, that he began to experiment with photography and became involved with the Dada movement. He would use the shop's storeroom as his darkroom, and would display his photographs in the windows. Success in the leather business eluded him, but his confidence with photography grew, and when he relocated to Paris in 1936, he set out on the career that was to make him famous. While initially the fashion magazines were reluctant to employ him, the more avant-garde publications like Photographie regularly featured his work. Finally, with the crucial support of the British photographer Cecil Beaton, who was closely affiliated with Condé Nast, Blumenfeld was awarded a contract with Vogue in 1938. In the summer of 1941, just after his release from an internment camp during the German occupation of France, Blumenfeld and his family emigrated via North Africa to New York. By the 1950's he was the most accomplished and highest paid fashion photographer in the world.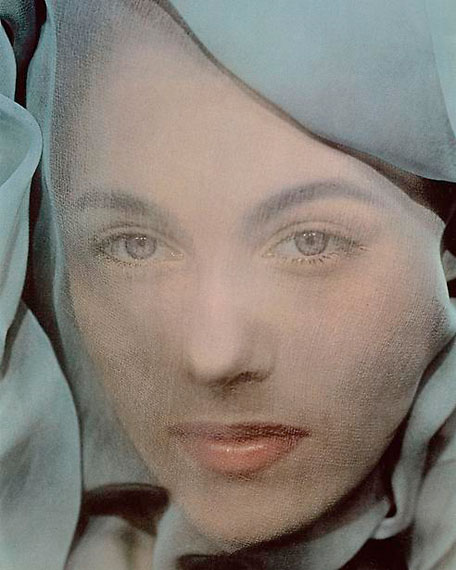 ERWIN BLUMENFELD
Vive L'Amerique !
6. Februar – 15. März 2014
Die Galerie Edwynn Houk freut sich vom 06. Februar bis 15. März 2014 unsere erste Ausstellung mit Arbeiten des berühmten Modefotografen Erwin Blumenfeld (1897-1969) in Zürich präsentieren zu können. Die Ausstellung zeigt 10 Fotografien aus zwei Farbportofolios, Vive L'Amerique ! and Vive L'Amerique !!, die vom Nachlass des Künstlers herausgegeben wurden und einen guten Einblick in Blumenfelds wegweisende Arbeiten geben, die den Entwicklungsverlauf der Modefotografie nachhaltig beeinflusst haben.

Erwin Blumenfeld zählt damit neben George Hoyningen-Heune, Cecil Beaton und Horst P. Horst zu den frühen Pionieren der Modefotografie. Es war nicht nur sein Einsatz von experimentellen Verfahrensweisen in der Dunkelkammer, der Einfluss von Dadaismus und Surrealismus und neuartigen Straßenansichten, sondern auch Blumenfelds besondere und meisterliche Verbindung von Eleganz und Erotik, die Mode in Kunst verwandelt und somit den Weg für Fotografen, wie Richard Avedon, Irving Penn und Herb Ritts, geebnet haben und welche nun entsprechende Prominenz und Anerkennung innerhalb der Kunstgeschichte genießen können.

Neben dem bestehenden Rekord für die meisten Vogue-Titelseiten sind Blumenfelds Fotografien in den 1930er, '40er und '50er Jahren auch reichlich in den Seiten von Cosmopolitan, Harper's Bazaar, Life and Vogue veröffentlich worden. Einige der Bilder dieser Fotoaufträge sind auch in dieser Ausstellung vertreten und sind mittlerweile zu Ikonen in der Geschichte der Modefotografie geworden. In seiner rückblickenden Betrachtung von Blumenfelds Fotografien schreibt William Ewing: "Sein sehr originelles und visionäres Werk war eine nahtlose Mischung von Negativ und Positiv: Aufnahmen im Atelier machen und dann Bilder in der Dunkelkammer erschaffen." Die Bilder der zwei, hier gezeigten Portofolios stellen den Innovationsgrad seiner Fotografie eindeutig heraus. Diese Abzüge illustrieren Blumenfelds frühen und scheinbar mühelosen Wechsel zur Farbfotografie als er in den Vereinigten Staaten ankam, wo er die entsprechende Technologie fortgeschrittener und zugänglicher vorfand. Dies bot ihm die Gelegenheit, in vorderster Reihe mit Farbfotografie zu experimentieren, wobei er oft Verfahren und Techniken anwendete, die er schon für seine Schwarz-Weiß-Fotografie entwickelt hatte, und so Farbaufnahmen produzierte, die eine nachhaltig zeitgenössische Ästhetik und ikonischen Status besitzen. Daraus erklärt sich auch leicht, dass gerade diese Arbeiten aus den Nachkriegsjahren so prominent in der momentan zeitgleich stattfindenden Retrospektive zu Blumenfelds künstlerischer Karriere in der Galerie nationale du Jeu de Paume in Paris gezeigt werden.

Blumenfeld wurde 1897 in Berlin geboren und zog als junger Mann nach Amsterdam. Dort begann er als Inhaber eines Lederfachgeschäfts mit der Fotografie zu experimentieren und sich in der Dada-Bewegung einzubringen. Er nutzte das Lager des Geschäfts als Dunkelkammer und stellte seine Fotografien in den Schaufenstern aus. Der Erfolg im Ledergeschäft blieb aus, aber sein Selbstvertrauen in der Fotografie stieg. Als er 1936 nach Paris ging, galt seine ganze Aufmerksamkeit der Karriere, die ihn später berühmt machen sollte. Während Modezeitschriften anfänglich zurückhaltend waren, ihn anzustellen, wurden seine Arbeiten schon recht häufig in Avantgarde- Publikationen wie Photographie veröffentlicht. Doch bald gewann er die Unterstützung des britischen Fotografen Cecil Beaton, der enge Verbindungen mit Condé Nast hatte, und konnte so 1938 einen Vertrag mit Vogue abschließen. Gleich nachdem er 1941 aus einem Internierungslager im deutschbesetzten Frankreich freigelassen wurde wanderte Blumenfeld mit seiner Familie über Nordafrika nach New York aus. In den 1950er Jahren wurde er zum erfolgreichsten und höchstbezahlten Fotografen der Welt.