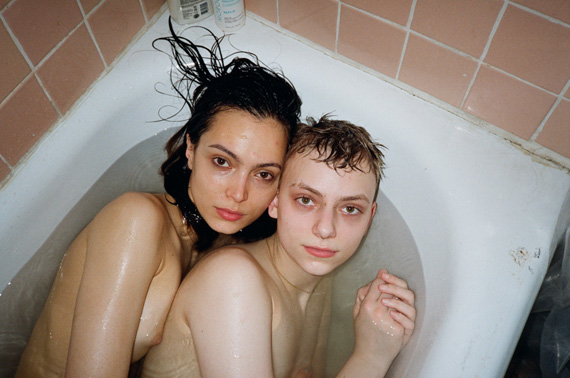 Young American
Exhibition: – 10 Aug 2018
Thu 28 Jun 19:00

Czech Center
321 East 73rd Street
10021 New York
+1-646-422-3399
info@czechcenter.com
www.czechcenter.com
Tue-Fri 9-17
Some may quite rightly take umbrage with the appropriation by the United States of the moniker "America" to lay claim to itself. Yet, while acknowledging this problematic conception, there is no denying that the term has a resonance of almost mythic proportions, global and local, inside and outside, positive and negative, and far beyond these binary simplifications.
As the culminating show of the Czech Center New York's New Bohemia Exhibition series that celebrates the vital and dynamic connections between the Czech Republic and the United States, particularly in honor of the 100 Year Anniversary of the Czech Republic, Marie Tomanova's Young American does not directly problematize what it means to be an American today, but celebrates the freedom and identity of the idea of an "America" still rife with dreams and possibilities, hope and freedom. Her images, direct and without artifice, confront us with the power and beauty of people simply being, the young...just being. And in this just being is the essence of unity, love, and acceptance.
It is a visualization of an America in which individuality is valued as uniqueness and not judged as lack of sameness. It is work that reverberates with the distant echo of August Sander's Face of our Time, Malick Sidibé's exuberant youth of Mali, or, perhaps more closely, with Nan Goldin's intimacy.
Tomanova relates with her subjects—they relate with her. There is something. There is a spirit that just seems to be present. It may be that punctum that Roland Barthes describes in Camera Lucida, but even if it is not, there is still really something.... Do you see it, or does it go beyond seeing and surface? Do you feel it? The exterior only reveals what is below, and that is a heart...beating. Can you feel the pulse and know that they are you?
One could contextualize this body of work in the increasingly important and powerful voice of youth culture that is in the process of vitally reshaping gender, society, culture, and perhaps igniting a subtle and much needed ideological revolution that has its own history, as can be seen, most notably, in the 1967 Summer of Love centered in San Francisco, the events of May 1968 in Paris, or the 1989 Velvet Revolution in Prague. We could go far deeper, of course, and see this power of youth to assert and forge new cultural identity in early nineteenth-century Romanticism, the anti-establishment vision of the Impressionists, the anti-bourgeoisie stance of the German Expressionists, the automatic freedom of the Beat Generation, the bright veneer of POP, the disharmonious edge of PUNK and the Blank Generation, and the self-awareness of Generation X, Y,...Z. The beat goes on.
Like a star.