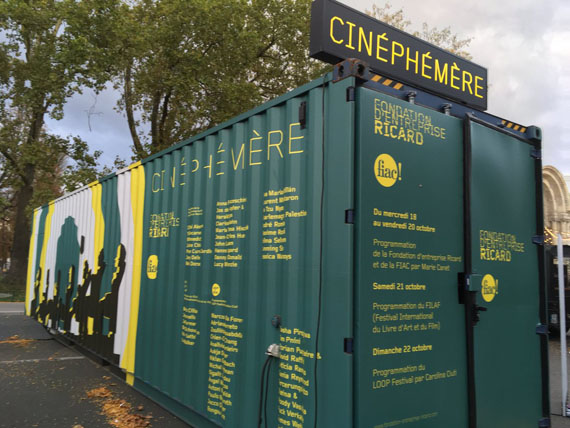 FIAC 2018 - Cinéphémère
Fair: 18 Oct – 21 Oct 2018
Wed 17 Oct
FIAC
Grand Palais Louvre
75001 Paris
+33(0)1-41904780
The 45th edition of FIAC will be held in Paris from October 18–21, 2018 and will host 195 galleries in the nave and exhibition rooms of the Grand Palais.The vernissage will take place on Wednesday, October 17.

Cinéphémère​
FIAC and Fondation d'entreprise Ricard present the ninth edition of the Cinéphémère, a short films programme by artists streamed during FIAC week, from Wednesday, October 17 to Sunday, October 21. Some 30 artists' films have been selected by associate curator Nataša Petrešin-Bachelez, independent curator, editor and writer. The Cinéphémère will screen a programme conceived by the LOOP Festival on Saturday, October 20 and by the FILAF (Festival International du Livre d'Art et du Film) on Sunday, October 21. The films are screened in open and free access, in a nomad 14-seat movie theatre entirely equipped for this purpose, located on Avenue Winston Churchill, between the Grand Palais and the Petit Palais.

Nataša Petrešin-Bachelez presents films by: Lawrence Abu Hamdan, John Akomfrah, Sophia Al Maria, Basma Alsharif, Maria Thereza Alves, Marwa Arsanios, Sammy Baloji, Louidgi Beltrame, Meriem Bennani, Minia Biabiany, Pauline Boudry / Renate Lorenz, Mohamed Bourouissa, Ali Cherri, Kudzanai Chiurai, Julien Creuzet, Françoise Dasques, Joana Hadjithomas & Khalil Joreige, Ayesha Hameed & Hamedine Kane, Emre Hüner, Karrabing Film Collective, Kapwani Kiwanga, Ana Mendieta, Pedro Neves Marques, Otobong Nkanga, Ahmet Öğüt, Dan Oki, Uriel Orlow, Noël Pial with Marie Voignier, Naomi Rincón Gallardo, Julia Rometti & Victor Costales, Tabita Rezaire, LaToya Ruby Frazier, Tejal Shah, Maja Smrekar, Koki Tanaka, Charwei Tsai, Robin Vanbesien, Ana Vaz & Nuno da Luz, Cecilia Vicuña, Lucy Walker, Xu Tan, and Zheng Bo.

LOOP Festival presents films by: Shigeko Arikawa, Ergin Cavusgolu, Esther Ferrer, Marco Godoy, Sigurður Guðjónsson, Claudia Larcher, Gisela Motta & Leandro Lima, Tova Mozard, Jaime Pitarch, and Michele Spanghero.

FILAF presents films by: Caroline Alder & Damien Faure, Michel Auder, Louise Lemoine & Ila Bêka, Thomas Lévy-Lasne, Pere Portabella, and Andres Veil.