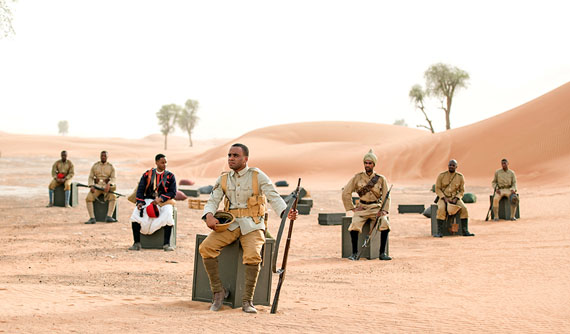 Ghana Freedom
Exhibition: – 24 Nov 2019
Wed 8 May 11:00
Venice Biennale - GHANA
Arsenale
30124 Venezia
+39-41-
Titled 'Ghana Freedom', after the song composed by E.T. Mensah on the eve of the birth of the new nation in 1957, the pavilion curated by Nana Oforiatta Ayim examines the legacies and trajectories of that freedom by six artists, across three generations, rooted both in Ghana and its Diasporas: through archives of objects in large-scale installations by El Anatsui and Ibrahim Mahama; representation and portraiture, both in the studio work of Ghana's first known female photographer Felicia Abban and imagined by painter Lynette Yiadom-Boakye; and the relativities of loss and restitution in a 3-channel film by John Akomfrah and in a film sculpture by Selasi Awusi Sosu. The elliptically-shaped design of the pavilion by Sir David Adjaye explores the intersection of ideas linking the works.

The Ghana Pavilion will be accompanied by a publication with a preface by President Nana Addo Dankwa Akufo-Addo; foreword by the Minister of Tourism, Arts and Culture, Honorable Catherine Afeku; and contributions by Sir David Adjaye, Kwame Anthony Appiah, Nana Oforiatta Ayim, Okwui Enwezor, Taiye Selasi, Hakeem Adam, Adjoa Armah, Mae-ling Lokko, Kuukuwa Manful, Larry Ossei-Mensah, and Mavis Tetteh-Ocloo.

There will be a series of critical platforms and interventions in Ghana throughout the Biennale.

'Ghana Freedom' will travel from Venice to Accra after the Biennale.
Felicia Abban is widely viewed as Ghana's first female professional photographer. At the age of 14, she became the first and only female apprentice in the photography studio of her father, Joseph Emmanuel Ansah, where she trained for four years. After marrying designer Robert Abban, in 1953, she moved to Accra, where she set up her own photography studio in the Jamestown neighborhood. Following Ghana's independence in 1956, Abban became the personal photographer of Ghana's first president, Kwame Nkrumah, taking pictures of important political events. In addition, she continued to run her studio, documenting Accra's many individuals and groups. From the 1950s to 1970s Abban regularly produced self-portraits before attending dinner parties and political events, which she used as a calling card for her photography studio. She became something of a celebrity, appearing on television, radio and in many newspaper articles for her groundbreaking work, and managed to train a whole generation of female photographers, taking them on as apprentices in her studio. In 2017, Abban's work was exhibited for the first time in Accra: Portraits of a City at ANO Institute of Arts & Knowledge, Accra. It was announced on that occasion that Abban's photography studio will be turned into the Felicia Abban Museum.

John Akomfrah, CBE, is an artist and filmmaker, whose works are characterized by their investigations into memory, post-colonialism, temporality, and aesthetics and often explores the experiences of migrant diasporas globally. Akomfrah was a founding member of the influential Black Audio Film Collective, which he started in London in 1982 with the artists David Lawson and Lina Gopaul, who he still collaborates with today. Their first film, Handsworth Songs (1986) explored the events surrounding the 1985 riots in Birmingham and London through a charged combination of archive footage, still photos and newsreel. The film won several international prizes and established a multi-layered visual style that has become a recognizable motif of Akomfrah's practice. In 2017, Akomfrah presented Purple, his largest installation to date. The six-channel video installation addresses climate change, human communities and the wilderness. That same year, Akomfrah also debuted Precarity, which follows the life of forgotten New Orleans jazz singer Buddy Bolden through archival imagery and newly-shot footage.
Akomfrah has had numerous solo exhibitions at institutions including the New Museum, New York (2018); SFMOMA, San Francisco (2018); Museo Nacional Thyssen-Bornemisza, Madrid (2018); Tate Britain, London (2013-14); and a week-long series of screenings at the Museum of Modern Art, New York (2011). His work has also been presented at the Venice, Sharjah, Liverpool, and Taipei biennials, as well as at film festivals worldwide, including Sundance Film Festival (2011 and 2013) and Toronto International Film Festival (2012).

A pioneering sculptor, El Anatsui is a leading contemporary African artist ...

One of the most exciting artists to emerge from Ghana in recent years, Ibrahim Mahama uses the transformation of materials to explore themes of commodity, migration, globalization and economic exchange

Selasi Awusi Sosu discovered the medium of glass while studying sculpture at the Kwame Nkrumah University of Science and Technology, from 1997 to 2005. Having previously studied textiles at Achimota School, Accra, Sosu started searching for a new medium of expression during the final years of her studies. More recently, she began to investigate the medium of glass through the lenses of photography, yet her photographic installations still reveal her background in sculpture.
Sosu's solo exhibitions include Transience at the St. Teresa's Catholic Church, Amisano, Cape Coast (2016) and Transparencies at the University of Education, Winneba (2015). She has participated in several group shows, including Tracing Obsolescence, Apexart, New York (2018); Orderly Disorderly, Museum of Science & Technology, Accra (2017); and Memory and Amnesia: In the Presence of Absent Futures, King Prempeh II Library, Kwame Nkrumah University of Science and Technology, Kumasi (2017). Furthermore, Sosu was a special guest artist at The Gown Must Go to Town… Of Art and Philosophical Consciencism, Museum of Science & Technology, Accra (2015), as well as a member of the production team of If You Love Me… at Loco Shed, Kumasi Railway, Kumasi (2016). In 2015, she participated in the durational performance, The Return of the Slaves, by Elikem Vabene Fiatsi and the Ofkob Artists' Residency. Sosu currently teaches in the Department of Art Education, University of Education, Winneba.

Lynette Yiadom-Boakye has had several solo museum shows, most recently at the New Museum of Contemporary Art, New York (2017); Kunsthalle Basel, Switzerland (2016); Haus der Kunst, Munich, Germany (2015); and Serpentine Gallery, London (2015)...