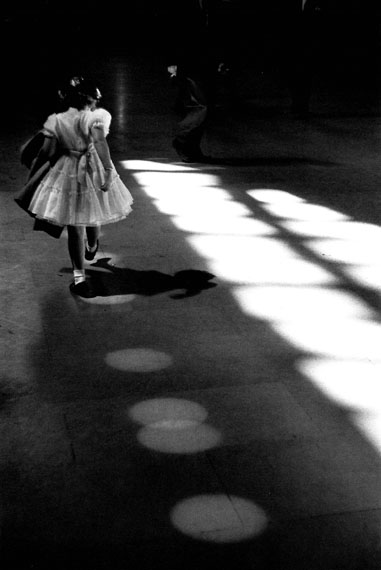 Early Joys
Exhibition: 31 Oct 2020 – 18 Mar 2021
Sat 31 Oct 19:00 - 21.30:00

in focus Galerie
Hauptstr. 114
50996 Köln
+49 (0)177 -3202913
galeriefoc@aol.com
www.infocusgalerie.de
Wed-Fri 16-19, Sat 11-15 + b.a.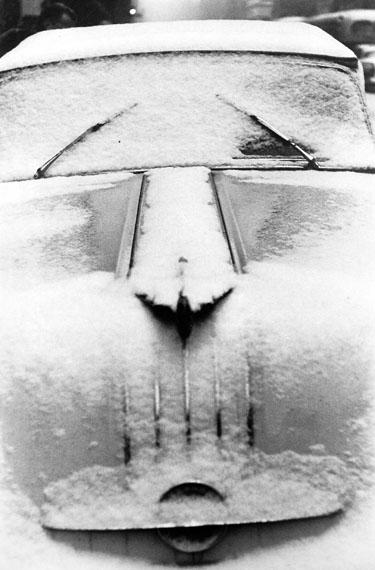 Louis Stettner
"Early Joys"

Exhibition: 31 October, 2020 - 18 March, 2021
Opening: Saturday, 31 October, 7- 9:30 pm
"What a life - between photography and fine arts, sculpture and panel painting, France and America. A life between countries and cultures, languages and sensitivities. Not that Louis Stettner couldn't have made up his mind. But he probably needed this oscillation between the continents, the cities and disciplines in order to be able to re-enact life's big questions over and over again. "Being a photographer", he once said, "means perpetual discovery."

Born in 1922, died in 2016, Stettner spanned practically the entire 20th century. (...) Ultimately, there were two poles that shaped Stettner and between whom his own camera art mediated: On the one hand, the left-wing humanism of the Photo League initiated by Grossman, and on the other, the approach of Brodovitch, who was interested in the formal. "Form cannot really exist without content," Stettner put it in a nutshell. Conversely, content without a struggle for form is at least no art. In Stettner's work, both aspects coincide in a convincing way: the deeply felt interest in people and an alert, sometimes bold, surrealist-inspired look interested in visual surprises. This applies to his oeuvre created in New York as well as to his dealings with Paris. (...)

In Paris there were names like Doisneau, Boubat, Cartier-Bresson that became friends and confirmed him in his path. Not to forget Brassaï, who not only contributed a wonderful, sensitive text to Stettner's first book or portfolio - "10 Photographs" (1949). He was also a role model, guide, fatherly friend: "He was my master." Not only was Paris a great inspiration, said Stettner, the people had also given him the certainty that "I was doing something important." Fashion, advertising, journalism: photography can be many things, commission and self-commission.

Stettner positioned himself early on as an independent author, as a street photographer who faced the revelations of everyday life with a keen eye. As he said, Paris became his outdoor studio and "la vie quotidienne" became his big topic. In France this was the high time of a so-called "photography humanist". At Stettner, too, the focus is on people, on the little man. But his images are less anecdotal, less obvious, less interested in stories than in atmosphere. Stettner didn't look for answers, he asked questions. His images are irritating and often present themselves as a secret: mysteries in black and white, supported by a desire to experiment, which is expressed in courageous cuts, blurring, reflections, in dynamics, in movement or in an emptiness that is reminiscent of Atget. (...)

"Flaubert said, what he destested most in art is something that's clever," Stettner quoted the great realist who, along with Walt Whitman, was one of his "favorite poets". Stettner's own work is anything but clever, rather well seen, deeply felt, honest and full of surprises. "Art doesn't work by pleasing other people," he defines himself. "It's by moving other people. Deeply."

Excerpts from a text by Hans-Michael Koetzle, freelance writer, photo historian and curator.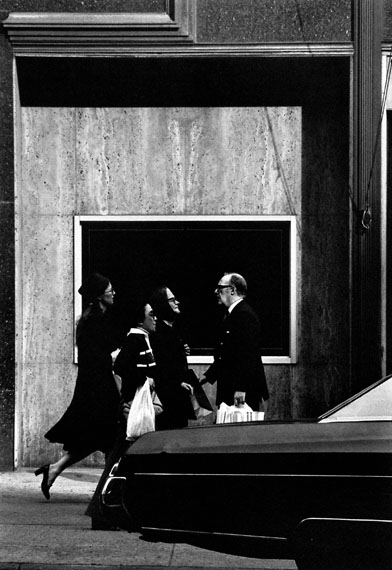 Louis Stettner
"Early Joys"

Ausstellung: 31. Oktober bis 18. M ärz 2021
Eröffnung: Samstag, 31. Oktober, 19 - 21:30 Uhr
"Was für ein Leben – zwischen Fotografie und bildender Kunst, Plastik und Tafelmalerei, Frankreich und Amerika. Ein Leben zwischen Ländern und Kulturen, Sprachen und Befindlichkeiten. Nicht dass sich Louis Stettner nicht hätte entscheiden können. Aber er brauchte wohl dieses Oszillieren zwischen den Kontinenten, den Städten und Disziplinen, um immer wieder neu den großen Fragen des Lebens nachstellen zu können. "Being a photographer", hatte er einmal gesagt, "means perpetual discovery." 1922 geboren, 2016 gestorben hat Stettner praktisch das gesamte 20. Jahrhundert durchmessen. (...)

Letztlich waren es zwei Pole, die Stettner prägten und zwischen denen die eigene Kamerakunst vermittelt: Zum einen der linke Humanismus der von Grossman initiierten Photo League, zum anderen der am Formalen interessierte Ansatz eines Brodovitch. "Form cannot really exist without content", brachte es Stettner auf den Punkt. Umgekehrt ist Inhalt ohne ein Ringen um die Form zumindest keine Kunst. In Stettners Werk gelangen beide Aspekte auf überzeugende Weise zur Deckung: Das tief empfundene Interesse am Menschen und ein wacher, bisweilen kühner, an der visuellen Überraschung interessierter, surrealistisch inspirierter Blick. Das gilt für sein in New York entstandenes OEuvre ebenso wie für seine Auseinandersetzung mit Paris. (...)

In Paris waren es Namen wie Doisneau, Boubat, Cartier-Bresson, die zu Freunden werden und ihn in seinem Weg bestätigten. Brassaï nicht zu vergessen, der nicht nur einen wunderbaren, einfühlsamen Text zu Stettners erstem Buch bzw. Mappenwerk – "10 Photographs" (1949) – beigesteuert hat. Er war auch Vorbild, Wegweiser, väterlicher Freund: "He was my master." Nicht nur sei Paris eine große Inspiration gewesen, sagte Stettner, auch hätten ihm die Leute Gewissheit gegeben, »that I was doing something important." Mode, Werbung, Journalismus: die Fotografie kann vieles sein, Auftrag und Selbstauftrag.

Früh positionierte sich Stettner als unabhängiger Autor, als Street photographer, der sich wachen Auges den Offenbarungen des Alltags stellte. Paris wurde, wie er sagte, sein Outdoor-Studio und »la vie quotidienne" zu seinem großen Thema. In Frankreich war dies die hohe Zeit einer so genannten »Photographie humaniste". Auch bei Stettner steht der Mensch, der kleine Mann im Mittelpunkt. Aber seine Bilder sind weniger anekdotisch, weniger offensichtlich, weniger an Geschichten als an Atmosphäre interessiert. Stettner suchte nicht Antworten, sondern stellte Fragen. Seine Bilder irritieren, präsentieren sich nicht selten als Geheimnis: Mysterien in Schwarzweiß, gestützt durch eine Lust am Experiment, die sich in mutigen Anschnitten, Unschärfen, Spiegelungen, in Dynamik, in Bewegung äußert oder einer Leere, die an Atget erinnert. (...)

"Flaubert said, what he destested most in art is something that's clever", zitierte Stettner den großen Realisten, der neben Walt Whitman zu seinen »favorite poets", seinen Lieblingsdichtern zählte. Stettners eigenes Werk ist alles andere als clever, vielmehr gut gesehen, tief empfunden, ehrlich und voller Überraschungen. "Art doesn't work by pleasing other people", definiert er selbst. »It's by moving other people. Deeply."

Auszüge aus einem Text von Hans-Michael Koetzle, Schriftsteller, Fotohistoriker und Kurator.