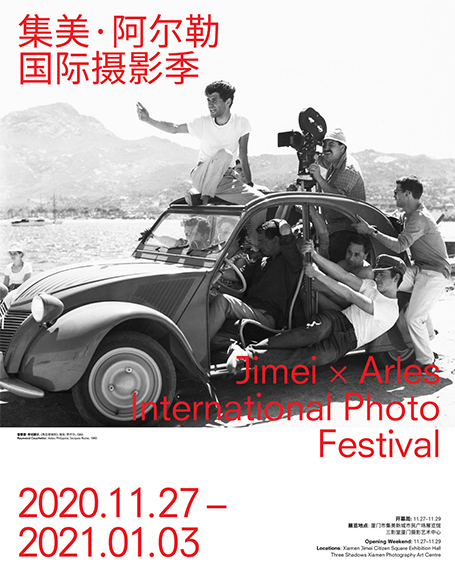 Jimei x Arles International Photo Festival 2020
Festival: – 3 Jan 2021
Jimei X Arles: East West Encounters
301 of No.467, XIn Ling Wan Road
Xiamen


Jimei X Arles: East West Encounters
No. 301, Building 2, Xinglinwan
Xiamen
+86 592 -637 2133
The Jimei x Arles International Photo Festival was first launched in 2015 by RongRong, Chinese photography pioneer and co-founder of Three Shadows Photography Art Centre, and Sam Stourdzé, head of the Académie de France-Villa Médicis and former director of Les Rencontres d'Arles. The event's co-producers include Three Shadows Photography Art Centre and Xiamen Tianxia Jimei Media Co., Ltd. Jimei x Arles has become a must-see event in China, attracting more than 300,000 visitors over the past five years. In 2019, visitor numbers increased to 70,000.

Every fall, a selection of projects from Les Rencontres d'Arles has travelled to Xiamen. Due to the public health crisis, Les Rencontres d'Arles was cancelled this summer and the planned program could not be shown in France. However, selected exhibitions from this year's festiva lwill be shown in Xiamen, which makes this year's Jimei x Arles particularly special.

Renowned photography critic and curator Gu Zheng has been invited to serve as the Art Director for this year's Jimei x Arles, which will present 26 exhibitions, including the debut of six exhibitions selected from Les Rencontres d'Arles in France, ten Discovery Award exhibitions featuring outstanding young Chinese photographers, the "Greetings from Japan" exhibition showing the most influential Japanese female artists, the China Pulse exhibition presenting explorations and developments at an art academy in China, four Crossover Photography exhibitions, one tribute exhibition to a master photographer, and two Local Action exhibitions. The 26 exhibitions will take place in Xiamen, presenting works by 87 artists from France, Belgium, Singapore, Lithuania, the United States, Japan, and mainland China.

The festival will have two main sites within the Jimei District, Xiamen this year: Three Shadows Xiamen Photography Art Centre and Xiamen Jimei Citizen Square Exhibition Hall. Xiamen is former- ly known as Amoy, the coastal city as a port has taken important role for centuries. It is famous for its colonial-era Gulangyu island, and now a vibrant and modern city that brings up China's indepen- dent fashion industry. During the Opening Weekend (27-29 November) of 2020 Jimei × Arles International Photo Festival, there will be a series of events and activities open for photo professionals, lovers and to all, including the opening ceremony, awards ceremony, lectures, performances, screenings, tours guided by artists and curators and greeting with the professional, etc.