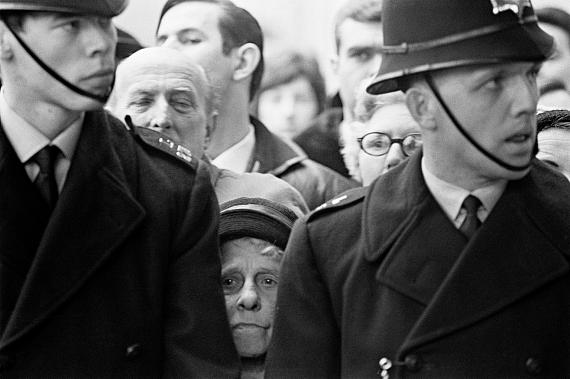 Photographer
Exhibition: 2 Mar – 24 May 2021

Fotostiftung Schweiz
Grüzenstr. 45
8400 Winterthur
+41 52 -234 10 30
info@fotostiftung.ch
www.fotostiftung.ch
Tue-Sun 11-18, Wed 11-20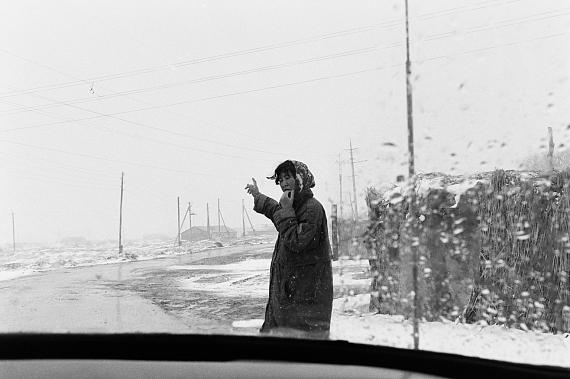 Pia Zanetti
"Photographer"

Exhibition: 2 March until 24 May, 2021
Pia Zanetti, born in Basel in 1943, made a name for herself with her insightful photo stories. Her great perseverance led her to excel in a field that had previously been dominated by men. Starting in the 1960s, she travelled extensively on behalf of publications such as Die Woche, Espresso, Stern, Paris Match, Elle, Telegraph, Das Magazin, Du, or NZZ, first in Europe and later all around the world. It was always the common people on the street, at work, at football stadiums, playing outside or lost in thought that caught her discerning eye. Unobtrusive, empathetic, critical and precise, she captured dramas big and small that unfold in day-to-day life. Pia Zanetti documented solidarity and resistance against injustice, but she also tirelessly sought out those happy moments in which dreams seem to become reality.

Even at an early age, she already knew that she wanted to become a photographer. But when she started looking for an apprenticeship in Basel after graduating from school, she was met with a series of rejections – the petite young woman was not deemed capable of the profession. In the end, Pia was allowed to train under her brother, who was 15 years her senior: Olivio Fontana ran a studio for advertising photography. She then attended the Basel School of Design before starting a career as a freelance photojournalist at the tender age of 20. At the same time she met the journalist Gerardo Zanetti, with whom she bonded not only privately but also professionally. As a flexible, open, adventurous and effective team, the couple soon met with success: together they developed ideas for stories and illuminated the rapid social changes in post-war Europe for magazine audiences at home and abroad. While Pia captured a diverse array of unique subjects with a keen sense for the individual setting, Gerardo provided insight and analysis in his finely crafted accompanying texts.

In the 1960s, the couple lived in Rome and London, travelled all over Europe, and sometimes ventured even further afield, for example to South Africa or the USA. When Pia's family work took on a more dominant role in her life in the 1970s – she had two sons and a daughter to look after – the family first settled in Ticino, and then later in Zurich. Nevertheless, the well-established photographer continued to be successful in the business. In addition to photo stories, for which demand in the media landscape was steadily dwindling, she took on numerous assignments for charities – in Africa, Asia, and Latin America, for example. When her husband Gerardo died in 2000, she continued her work on her own. She balanced her way through life and found the perfect equilibrium between earning a living and telling her own stories. Travelling, discovering foreign worlds, and a respectful sense of wonder continued to shape her work.

Almost all of Pia Zanetti's photographs are imbued with an innate dynamism, either because of the event depicted or due to a mysterious tension that immediately draws the viewer into the scene. One of her earliest works shows people in furious motion: young men, their arms and legs flailing in wild abandon to the turbulent sound of "The Hurricanes". They break out of their structured world for a brief moment, heralding the dawn of a new age with their strong, sensual expressiveness – still an exceptional sight to behold in Basel in 1960. Movement also characterises her street scenes from Italy. Pia Zanetti skilfully uses motion blur as a stylistic device, as if she was trying to say that capturing life is a futile endeavour: the ballet of everyday life is fleeting, the world is constantly changing, and it is always worthwhile to explore it anew – this is also the implicit message in her later works.

The photographer likes to focus her camera on individual figures and faces in the midst of a crowd of people – be it on the street (as in an impressive colour series from New York), in a football stadium, or at a rally. The juxtaposition of glances, gestures, and postures is full of life stories that transcend the moment frozen in time. The individual in focus is one among many who reveal something very personal in that instant. Unforgettable, for example, is the face of a Black South African on the stands at a sporting event, a phantom without clear contours, foregrounded in front of a hazy crowd of spectators: Is he watching the action on the pitch? Or are his eyes looking for stability in an uncertain future that will continue to be marked by racism and violence? The photograph was taken in Johannesburg in 1968. But even with no knowledge of the historical circumstances and the specific situation, this picture is captivating in and of itself.

Seismographically, Pia Zanetti also registers the inner movements that take hold of people, focusing on the emotions reflected in their faces and postures. Fear, humour, hope, cunning, resignation, sadness, joy, protest, elation, amazement, pride, arrogance, distrust, bitterness, despair: Pia Zanetti's work reveals a panorama of human sensibilities – the inner life of the outer world. And yet her works are anything but voyeuristic. Rather, they blend together into a very personal album. Her work, born from a desire to understand the world, the people, and their living conditions, is based on hundreds of encounters. She approaches the residents of a psychiatric clinic in Nicaragua with the same openness and respect she affords to the most prominent writers, actors, or movie directors. The photographer's empathy and discretion ensure that she never compromises the people in her pictures. "Why is it that almost all the people Zanetti photographs are so beautiful?", wondered author Nicole Müller, who often accompanied her on her travels. Because when taking pictures, the photographer pulls back completely and puts herself in a different state "to become completely permeable to the things and people in front of the camera. That's her special gift. To create this space in which people can reveal themselves."

For the exhibition of the Fotostiftung Schweiz, Pia Zanetti reviewed her entire archive and selected a number of images to assemble them into a new, free-floating narrative. The fact that it was possible to compose such an extensive, associative flow of images, both on the walls and in the book, without confining herself to a rigid structural corset of individual chapters, speaks for the quality of her work. Just as Pia Zanetti develops a particular theme into a narrative in pictures – one of the finest examples of this is her work on the dying Aral Sea in Uzbekistan – her entire oeuvre also produces a grand narrative image of an era. What was created in the context of a photojournalistic assignment now proves to be rather resilient, evolving from a document into an independent work. It is precisely in the broader overview that the consistency of her work becomes apparent – as a result of artist's unwavering confidence in her own visual language. The subjective gaze of an author who has followed her inner voice is all we need as a common thread. As a companion to the exhibition, the book "Pia Zanetti. Photographer", edited by Peter Pfrunder, will be available from Scheidegger & Spiess AG, Zurich, and codax publisher, Feldmeilen/Zurich.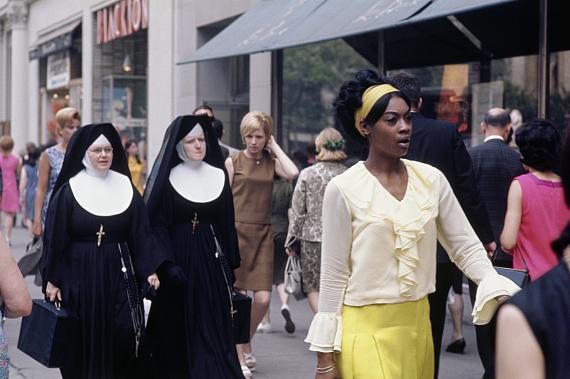 Pia Zanetti
"Fotografin"

Ausstellung: 2. März bis 24. Mai 2021
Mit engagierten Reportagen hat sich Pia Zanetti, 1943 in Basel geboren, einen Namen gemacht. Hartnäckig behauptete sie sich in einer Domäne, die lange Zeit Männern vorbehalten war. Im Auftrag von Publikationen wie Die Woche, Espresso, Stern, Paris Match, Elle, Telegraph, Das Magazin, Du oder NZZ bereiste sie ab den 1960er-Jahren zunächst Europa, später die ganze Welt. Dabei galt ihr Interesse immer den Menschen, die sie auf der Strasse, bei der Arbeit, im Fussballstadion, beim Spielen oder beim Sinnieren beobachtete. Unaufdringlich, einfühlsam, kritisch und präzis hielt sie die kleinen und grossen Dramen fest, die sich im Alltag abspielen. Pia Zanetti dokumentierte die Solidarität und den Widerstand gegen Unrecht, sie suchte aber auch unermüdlich jene glücklichen Momente, in denen Träume wahr zu werden scheinen.

Sie wusste schon früh, dass sie Fotografin werden wollte. Aber als die Schulabgängerin in Basel eine Lehrstelle suchte, gab es lauter Absagen – der zierlichen jungen Frau traute man diesen Beruf nicht zu. Schliesslich durfte Pia die Lehre bei ihrem 15 Jahre älteren Bruder absolvieren: Olivio Fontana betrieb ein Studio für Werbefotografie. Anschliessend besuchte sie die Kunstgewerbeschule Basel, bevor sie sich, kaum 20-jährig, als Fotojournalistin selbstständig machte. Dabei lernte sie auch den Journalisten Gerardo Zanetti kennen, mit dem sie sich nicht nur privat, sondern auch beruflich verband. Als flexibles, offenes, entdeckungsfreudiges und effizientes Team hatten die beiden bald Erfolg: Gemeinsam entwickelten sie Ideen für Geschichten und beleuchteten für das Zeitschriftenpublikum im In- und Ausland den raschen gesellschaftlichen Wandel der europäischen Nachkriegszeit. Während sich Pia mit viel Feingespür auf unterschiedlichste Begegnungen einliess und die jeweilige Atmosphäre erfasste, lieferte Gerardo in fundierten Texten die Analysen dazu.

In den 60er-Jahren lebte das Paar in Rom und London, reiste kreuz und quer durch Europa und begab sich zuweilen auch ins ferne Ausland, so etwa nach Südafrika oder in die USA. Ab den 70er-Jahren ordnete Pia ihre beruflichen Ambitionen zunehmend der Familienarbeit unter – zwei Söhne und eine Tochter waren zu betreuen –, die Familie liess sich zuerst im Tessin und später in Zürich nieder. Trotzdem blieb die inzwischen etablierte Fotografin weiterhin im Geschäft. Neben den Bildberichten, für die es in den Medien immer weniger Platz gab, führte sie zum Beispiel zahlreiche Aufträge für Hilfswerke aus – in Afrika, Asien und Lateinamerika. Als ihr Mann Gerardo im Jahr 2000 starb, ging sie ihren Weg alleine weiter. Sie balancierte sich durchs Leben und fand die richtige Mischung zwischen Brotjob und eigenen Projekten. Das Reisen, die Entdeckung fremder Lebenswelten, das respektvolle Staunen prägten ihre Arbeit auch weiterhin.

Fast immer sind Pia Zanettis Aufnahmen von Dynamik erfüllt, sei es durch das dargestellte Ereignis, sei es aufgrund einer inneren Spannung. Eines ihrer frühesten Werke zeigt Menschen in heftiger Bewegung: junge Männer, die zum stürmischen Sound von "The Hurricans" Beine und Arme fliegen lassen. Sie brechen für kurze Zeit aus ihrer geordneten Welt aus, verleihen dem Aufbruch in ein neues Zeitalter einen starken, sinnlichen Ausdruck – im Jahr 1960 in Basel noch keine Selbstverständlichkeit. Bewegung prägt auch ihre Strassenszenen aus Italien. Gekonnt setzt Pia Zanetti Unschärfe als Stilmittel ein, als wollte sie damit sagen, dass sich das Leben sowieso nicht festhalten lässt.

Gerne richtet die Fotografin ihre Kamera auf einzelne Figuren und Gesichter inmitten einer Ansammlung von Menschen – sei es auf der Strasse (so etwa in einer eindrucksvollen Farb-Serie aus New York), im Fussballstadion oder bei einer Kundgebung. Das Nebeneinander vonBlicken, Gesten und Körperhaltungen ist voll von Lebensgeschichten, die weit über den einen Moment hinausgehen. Der im Mittelpunkt stehende Mensch ist eine oder einer unter vielen, die in diesem Augenblick etwas ganz Persönliches preisgeben. Unvergesslich etwa das Gesicht eines schwarzen Südafrikaners auf einer Tribüne, ein Phantom ohne klare Konturen, dahinter eine schemenhaft erfasste Zuschauermenge: Ist sein Blick auf das Spielfeld gerichtet? Oder suchen seine Augen Halt in einer unsicheren Zukunft, die auch weiterhin von Rassismus und Gewalt geprägt sein wird? Die Aufnahme entstand 1968 in Johannesburg. Aber selbst ohne Erläuterung der historischen Umstände und der spezifischen Situation fesselt dieses Bild.

Seismografisch registriert Pia Zanetti auch jene inneren Bewegungen, von denen Menschen ergriffen werden; ihre Aufmerksamkeit gilt den Emotionen, die sich in Gesichtern und Körperhaltungen spiegeln. Angst, Humor, Hoffnung, Verschlagenheit, Resignation, Trauer, Freude, Protest, Jubel, Staunen, Stolz, Arroganz, Misstrauen, Bitterkeit, Verzweiflung: In Pia Zanettis Werk tut sich ein Panorama menschlicher Befindlichkeiten auf – die Innenwelt der Aussenwelt. Dennoch sind ihre Arbeiten alles andere als voyeuristisch. Sie fügen sich eher zu einem persönliches Album. Ihr Werk, geboren aus dem Wunsch, die Welt, die Menschen und ihre Lebensbedingungen zu verstehen, beruht auf hunderten von Begegnungen. Den Bewohnern einer psychiatrischen Klinik in Nicaragua begegnet sie ebenso offen und respektvoll wie den prominentesten Schriftstellern, Schauspielern oder Filmregisseuren. Dem Einfühlungsvermögen und der Diskretion der Fotografin ist es zu verdanken, dass sie die abgelichteten Menschen niemals blossstellt. "Warum eigentlich sind fast alle Menschen, die Zanetti fotografiert, schön?", fragte sich die Autorin Nicole Müller, die oft mit ihr unterwegs war. Weil sich die Fotografin beim Fotografieren ganz zurücknehme und sich in einen anderen Zustand versetze, "um vollkommen durchlässig zu werden für die Dinge und Menschen vor der Kamera. Das ist ihre besondere Gabe. Diesen Raum zu schaffen, in dem sich die Menschen zeigen können."

Für die Ausstellung der Fotostiftung Schweiz hat Pia Zanetti ihr gesamtes Archiv gesichtet und eine Auswahl getroffen, um sie zu einer neuen, freischwebenden Erzählung zusammenzustellen. Dass es möglich war, sowohl an den Wänden wie auch im Buch einen umfangreichen, assoziativen Bilderfluss zu komponieren, ohne sich dabei auf ein starres inhaltliches Korsett mit einzelnen Kapiteln abzustützen, spricht für die Qualität ihrer Arbeit. So wie Pia Zanetti ein bestimmtes Thema zu einer Erzählung in Bildern entwickelt – eines der schönsten Beispiele dafür ist ihre Arbeit über den sterbenden Aralsee in Usbekistan –, so ergibt auch ihr ganzes Schaffen ein grosses, erzählerisches Epochenbild. Was einst im fotojournalistischen Auftrag entstand, erweist sich als durchaus widerstandsfähig, verwandelt sich vom Dokument zum eigenständigen Werk. Gerade im Überblick tritt die Konsistenz dieses Werks zutage – als Resultat des beharrlichen Vertrauens in die eigene Bildsprache. Der subjektive Blick einer Autorin, die ihrer inneren Stimme folgt, genügt als roter Faden.

Begleitend erscheint die Publikation "Pia Zanetti. Fotografin", herausgegeben von Peter Pfrunder, bei Scheidegger & Spiess AG, Zürich, und codax publisher, Feldmeilen/Zürich.