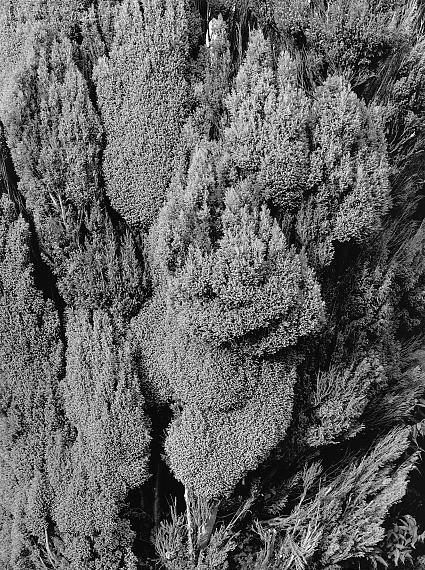 Immergrün
Exhibition: – 19 Sep 2021
Thu 22 Jul

Ludwigsburg Museum im MIK
Eberhardstr. 1
71634 Ludwigsburg
+ (0)7141-9102290
museum@ludwigsburg.de
www.ludwigsburgmuseum.de
Tue-Sun 10-18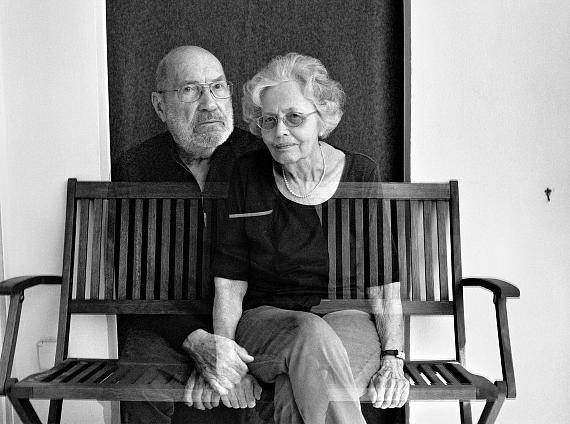 Loredana Nemes
"Immergrün"

Exhibition: 15 May – 19 September 2021
Berlin artist Loredana Nemes photographed her recent series "Immergrün" as artist in residence in Ludwigsburg during the summer of 2020. The photographer portrayed long-standing couples from Ludwigsburg and juxtaposes them with photographs of evergreen plants and lyrical texts. With this project, Nemes continues her collaboration with the museum, for which she had created the series "Blütezeit" with portraits of young people and blossoming trees in the spring of 2012.

Almost a decade later, Nemes devotes herself to the third age, which is rarely depicted in a positive light in society or the arts, and finds new modes of expression. Fourteen couples in their late sixties to mid-nineties responded to her newspaper advert. The partners are portrayed in familiar, intimate togetherness that expresses itself in an affectionate look or a light touch. She focuses on faces, hands, legs or a neck and, like a lover herself, traces the beauty of age, engraved like a landscape.

"Immergrün" is an unusual document of the Corona pandemic in the summer of 2020: in a time of social distancing the photos shot by Loredana Nemes touch us through the interpersonal closeness evident in them. To prevent infections, this closeness between persons and generations has been increasingly rare. The portraits speak of the trust that was given by the couples to the photographer, allowing her to be a witness to their love.

Oh, you tilted ones!
How to do this staying, this everloving?
I don't know.
I want to copy you,
lay myself into your wild enrapturing river bed
and float in nothing but drenched nightwear.

Significant for Immergrün is the use of the double exposure technique; the portrayed step individually, one after the other, in front of the camera, the film is exposed twice, so that the two bodies overlay, their parts seemingly interfused let the partners merge. The couples have entrusted Loredana Nemes with their life und love stories during very emotional encounters. However, they are only revealed by their first names to the visitors. Loredana Nemes' black-and-white photographs capture the observer's imagination.

The exhibition catalogue published by Hartmann Books is available at a price of 34 Euros (112 pages, English booklet included).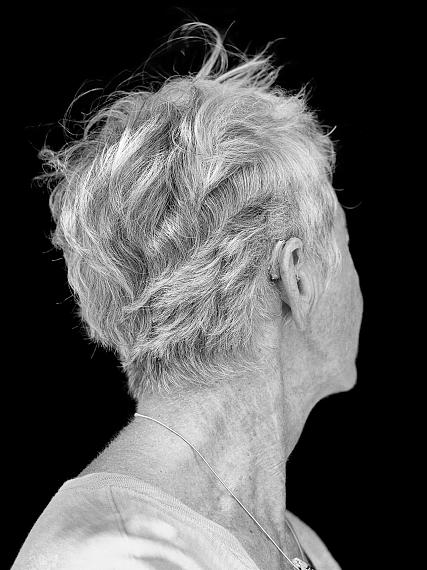 Loredana Nemes
"Immergrün"

Ausstellung: 15. Mai bis 19. September 2021
Als Artist-in-Residence war Loredana Nemes im Sommer 2020 Gast in Ludwigsburg und hat den Zyklus "Immergrün" geschaffen. Die Berliner Fotografin hat langjährige Liebespaare porträtiert und stellt ihnen Aufnahmen immergrüner Pflanzen und lyrische Texte zur Seite. Nemes setzt mit diesem Projekt ihre Zusammenarbeit mit dem Ludwigsburg Museum fort, für das sie im Frühjahr 2012 die Fotoserie "Blütezeit" mit Porträts Jugendlicher und blühender Bäume geschaffen hatte.

Fast ein Jahrzehnt später wendet sich Nemes nun dem dritten Lebensalter zu – einem Thema, das in der Gesellschaft und in der Kunst nur selten positiv konnotiert ist – und findet dafür neue Bilder. Vierzehn Liebespaare im Alter von Ende Sechzig bis Mitte Neunzig meldeten sich bei ihr auf einen Zeitungsaufruf hin. Die Partner zeigt sie im vertrauten, innigen Miteinander. Sie fokussiert auf Gesichter, Hände oder einen Nacken und spürt, selbst einer Liebenden gleich, der Schönheit des Alters nach.

In der Zeit des Social Distancing berühren uns ihre Fotografien durch die darin offensichtliche zwischenmenschliche Nähe. Ebendiese Nähe zwischen den Menschen und den Generationen ist in der Pandemiezeit aufgrund der Infektionsgefahr rar geworden. Aus den Porträts spricht das Vertrauen, mit der die Paare der Fotografin gegenübergetreten sind und sie zur Zeugin ihrer Liebe gemacht haben.

Oh, ihr Verkanteten!
Wie macht man das Bleiben und Immerlieben?
Ich weiß es nicht.
Abpausen
will ich euch,
mich in das Bett eures hinreißenden Flusses legen und treiben
in nichts als nasser Nachtwäsche.

Für "Immergrün" nutzt Nemes erstmals das Verfahren der Doppelbelichtung. Die Porträtierten treten kurz nacheinander einzeln vor ihre Kamera, der Film wird zweifach belichtet, so dass sich beide Körper im Bild überlagern und scheinbar miteinander verschmelzen. Die Paare haben in intensiven Begegnungen ihre Lebens- und Liebesgeschichten der Künstlerin offenbart. Den Besucherinnen und Besuchern werden sie in der Ausstellung jedoch nur mit Vornamen genannt. Ihre Schwarz-Weiß-Aufnahmen regen die Fantasie der Betrachterinnen und Betrachter an.

Der Katalog mit 112 Seiten und Beileger in englischer Sprache erscheint bei Hartmann Books zum Preis von 34 Euro.