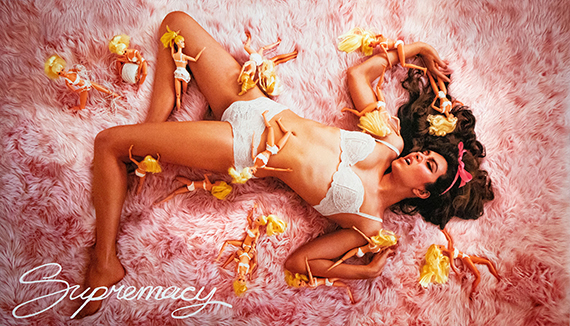 Supremacy
Postponed
Exhibition: – 1 Mar 2023

Whitney Museum of American Art
99 Gansevoort Street
NY 10014 New York
+1-212-5703600
feedback@whitney.org
www.whitney.org
Wed-Mon 10:30-18 | Fri, Sat 10:30-22
In Martine Gutierrez's Supremacy a brunette model lies on a saccharine pink shaggy rug—her "broken doll" pose recalls Tyra Banks's early-aughts show America's Next Top Model. With mouth open in an apparent state of rapture, the model is played by LGBTQ rights activist and artist Martine Gutierrez (b. 1989), in an image that she also conceived, produced, and photographed. Blonde Barbie-like dolls are scattered across her body, echoing her lingerie and pose. Closer inspection reveals, however, that these are not innocent dolls. One pulls Gutierrez's hair, another pushes her thigh. The expression one might have mistaken for pleasure now reads of pain; and the pose, in this context, resembles a chalk outline drawn at a crime scene. In this advertisement, the model is under attack by figurines representing sexist ideals of perfection. Written boldly in white, Supremacy is the brand.

Made in the signature style of Gutierrez's chameleonic photo-performances, Supremacy continues the artist's investigation of archetypes of women celebrated by media as brand ambassadors of beauty and authenticity. In this billboard, Gutierrez uses the language of advertisements to expose the ways in which companies are complicit in reproducing ideals anchored in whiteness and gender normativity. In an era of hyper pop-politics circulated by social media where anything can be commodified, can a brand actually be an ally in the fight for liberation? By positioning her body as a target of transphobia and racism, the artist subverts the language of marketing and discloses the ways in which supremacy can replicate in the form of a new ad campaign. Gutierrez's billboard proposes that supremacy—an oppressive and violent force ensconced in the very fabric of capitalism—can permeate even the "wokest" ads.

Martine Gutierrez is organized by Marcela Guerrero, Jennifer Rubio Associate Curator.

Martine Gutierrez is part of Outside the Box programming, which is supported by a generous endowment from The Jacques and Natasha Gelman Foundation.

Additional support is provided by the Artists Council.