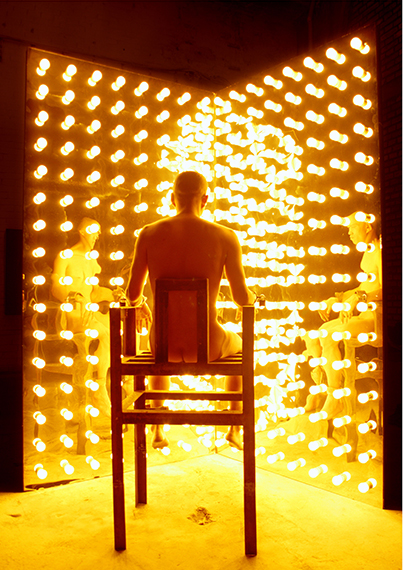 The Golden Sunshine
kuratiert von Ai Weiwei
Exhibition: 12 Oct 2021 – 20 Feb 2022
Fri 17 Dec

Francisco Carolinum Linz
Museumstr. 14
4010 Linz
+43 (0)732-7720 522 00
Tue-Sun 10-18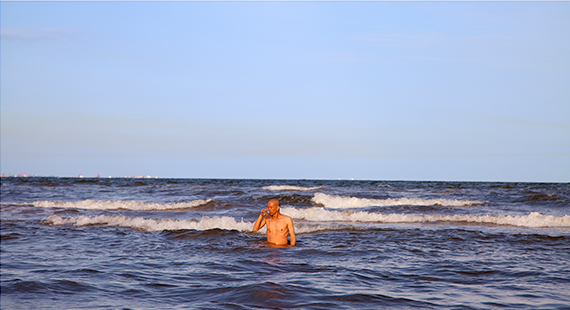 He Yunchang (*1967 in Kunming, Yunnan) is one of the most important performing artists in China. He studied painting at the Yunnan Art Institute and moved to Beijing in the 1990s, where his first performative works were created. Over the past two decades, he was best known for a series of radical actions. For instance, he had his hand cast in concrete for 24 hours, tried–hanging from a crane–to divide a river in half with his own blood, burned the clothes he was wearing, he ventured to stay on a rock by the Niagara Falls or had a rib removed from his chest. What at first glance might appear as brave stunts is actually strictly formal, highly referential Live Art with a compelling emotional impact. He Yunchang refers to questions about the basic conditions of being, which he connects with the religious and popular traditions of China and ancient Greek philosophy–and at the same time references the traditions of performance art of the 1960s and 70s.

He Yunchangs body is the fundamental medium in his artistic practice. It is the instrument that enables him to express his beliefs, willpower and vital force. "I have no reservations in my art practice," the artist states, "my only requirement is to stay alive. I use performance art to express what I care about and what I despise".

The show curated by Ai Weiwei is He Yunchang's first comprehensive retrospective in the German-speaking parts of the world.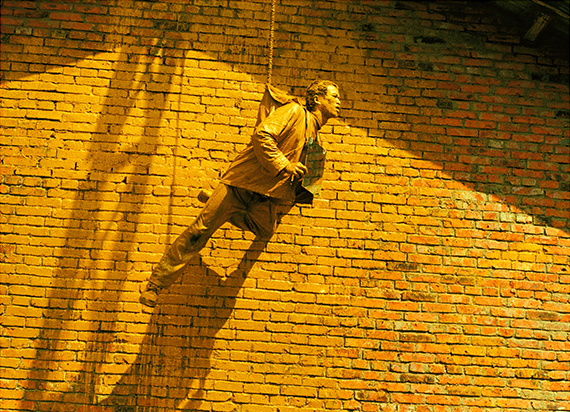 He Yunchang – The Golden Sunshine

Ausstellungsdauer: 12. Oktober 2021 – 20. Februar 2022
He Yunchang (*1967 in Kunming, Yunnan) ist einer der bedeutendsten Performancekünstler Chinas. Er studierte Malerei am Yunnan Art Institute und zog in den 1990er-Jahren nach Peking, wo seine ersten performativen Arbeiten entstanden. In den letzten zwei Jahrzehnten wurde er durch eine Reihe von radikalen Aktionen bekannt. So ließ er seine Hand 24 Stunden lang einbetonieren, versuchte – an einem Kran hängend – einen Fluss mit seinem eigenen Blut in zwei Hälften zu teilen, brannte sich seine Kleidung vom Leib, verharrte mitten in den Niagarafällen oder ließ sich einen Rippenbogen entfernen. Was auf den ersten Blick wie mutige Stunts erscheint, sind tatsächlich streng formale, referenzielle Kunstwerke mit bezwingend emotionaler Wirkkraft. He Yunchang bezieht sich auf Fragen nach den Grundbedingungen des Seins, die er mit den religiösen und volkstümlichen Überlieferungen Chinas und der antiken griechischen Philosophie verbindet – und gleichzeitig auf die Traditionen der Performancekunst der 1960er und 70er Jahre referenziert.

Für He Yunchang ist sein Körper das grundlegende Medium in seiner künstlerischen Praxis. Es ist das Instrument, das es ihm ermöglicht, seine Überzeugungen, Willenskraft und Lebenskraft auszudrücken. "Ich übe in meiner Kunstpraxis keine Zurückhaltung", sagt der Künstler, "meine einzige Bedingung ist, am Leben zu bleiben. Ich setze Performance-Kunst ein, um auszudrücken, was mir wichtig ist, und was ich verachte."

Die von Ai Weiwei kuratierte Schau ist He Yunchangs erste umfassende Retrospektive im deutschen Sprachraum.