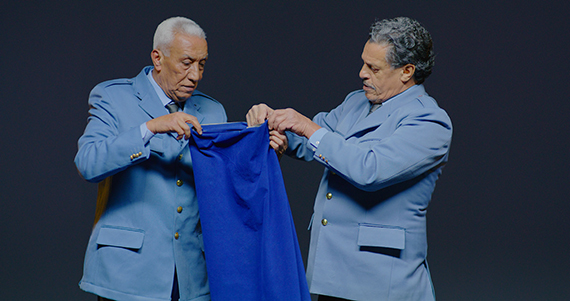 L'autre comme hôte
Exhibition: – 28 Nov 2021

Centre d'Art Albert Chanot de Clamart
33 rue Brissard - Clamart
92140 Paris
+33 1-71 16 76 32
cacc@clamart.fr
www.cacc.clamart.fr
Wed, Fri-Sun 14-18
LES PLIEURS 2021, vidéo
Two men attempt, in a delicate and fragile movement, to fold a blue cloth. The resistance shown by this flag reveals the difficulty of a gesture that seems simple.

Stand-by Office, 13'20'', video, 2017.
We are introduced to a group of people within an office environment. Everyday work gestures are observed throughout the building. Nothing seems out of place. As the camera leas us steadily through the rooms our perception of this particular space gradually changes. We are left wondering: what does this office mean to this group of people?

*We Are Here is a group of refugees in Amsterdam that does not get any housing provided by the government but also is not allowed to work and therefore should live on the street. The group decided to make the inhumane situation that they have to live in visible, by no longer hiding, but showing the situation of refugees that are out of procedure in The Netherlands.

Nabila & Keltoum & Khadija, colour print, 2015.
Three smuggler women portrayed as stars of gangsta rap, usually being part of a system that forces them to cross the border between Morocco and the Spanish enclave of Ceuta several times a day, loaded with tens of pounds on the back.
These proud and powerful women are taking back possession of their bodies through photography.
The fabric print reminder of a flag, a piece of fabric used as an emblem for a nation or a group. Here, the fabric would be the symbol of individual resistance, which today goes beyond the limits of the Ceuta enclave and faces the eyes of others.
Randa Maroufi is born in 1987 in Casablanca. She currently lives and works in Paris.

Randa Maroufi is a graduate of the National Institute of Fine Arts, Tetouan, Morocco (2010) and the School of Fine Arts, Angers, France (2013). She also earned a diploma from Le Fresnoy – Studio National des Arts Contemporains, Tourcoing, France (2015). Randa Maroufi has been Artist Member of Academy of France in Madrid at Casa de Velázquez in 2017 – 2018.

Belonging to the generation that grew up in an era dominated by image, she collects them with as much eagerness as suspicion, and ceaselessly questions their veracity. She prefers to put her ambiguous fictions in the service of reality, and the field of her experimentation encompasses the occupation of public space and gender issues, of which she highlights the founding mechanisms.

Her recent group exhibitions include: Museo de Reina Sofía, Spain (2021); New Museum, NY (2020); MA Museum, Quebec (2019); Biennale de Dakar, Senegal (2018); Boghossian Foundation, Brussels, Belgium (2018), Sharjah Biennial, Lebanon (2017); Videonale Bonn, Germany (2017); International Film Festival Rotterdam, The Netherlands (2016); African Photography Meeting, Bamako, Mali  (2015); the Marrakech Biennale, Morocco (2014), etc.

She has received many awards for her film Le Park (2015), and Bab Sebta (2019).