Lights go out
Exhibition: – 12 Jun 2022

Museum Kunst der Westküste
Hauptstr. 1
25938 Alkersum/Föhr
04681-747400
Tue-Sun 11-16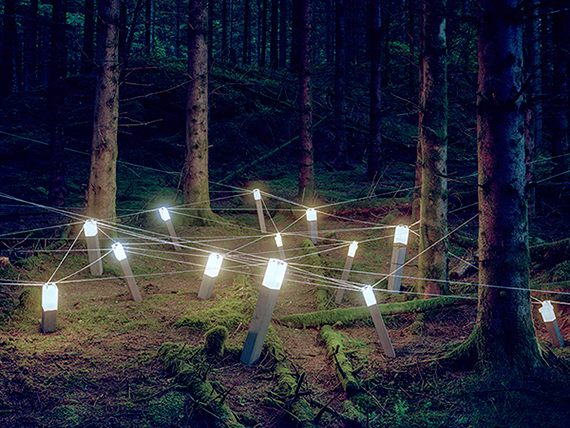 Rune Guneriussen
"Lights go out"

Exhibition: 30 January – 12 June 2022
The exhibition series Made on Föhr, a result of the museum's artist in residence programme, continues with the presentation "Rune Guneriussen – Lights go out".

As artist of residence of the Museum Kunst der Westküste, the Norwegian artist Rune Guneriussen (b. 1977) was on Föhr in 2018 where he laid the groundwork for his new series of works titled Lights go out: in different locations on the island, he created the first three works of the series. Additional works were created in Norway and in the Danish coastal town of Skagen.

Guneriussen's artistic practice spans installation art and photography. In his Lights go out series, abstract light installations enter into a 'dialogue' with nature. The combination gives rise to powerful, atmospheric images which are as idyllic as they are irritating. Upon closer inspection, a web of subtle contradictions unfolds between nature, installation and light, conveying the artist's personal perception of the changing coexistence of man and nature, which vacillates between dependence and alienation. The Lights go out series may be understood as Guneriussen's commentary on a globally exacerbating environmental crisis and reflects his growing focus on what may be one of the most pressing issues of our time.

To date, the Lights go out series includes 29 large-scale photographic works. A selection of those works is now presented in what is the artist's first institutional solo exhibition in Germany. A catalogue in German and English is published in conjunction with the exhibition.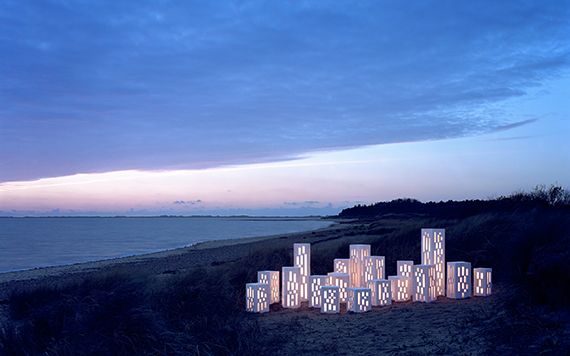 Rune Guneriussen
"Lights go out"

Ausstellung: 30. Januar bis 12. Juni 2022
Die Ausstellungsreihe Made on Föhr, hervorgegangen aus dem Artist-in-Residence-Programm des Museums, setzt sich im Jahr 2022 mit der Schau Rune Guneriussen – Lights go out fort.

Der norwegische Künstler Rune Guneriussen (* 1977) verbrachte 2018 einen Aufenthalt als Artist in Residence am Museum Kunst der Westküste auf Föhr und legte hier den Grundstein für seine neue Werkserie Lights go out: An unterschiedlichen Standorten auf der Insel schuf er die ersten drei Arbeiten der Serie. Weitere entstanden in Norwegen und dem dänischen Küstenort Skagen.

Mit seinem Schaffen bewegt sich Guneriussen zwischen Installationskunst und Fotografie. In seiner Serie Lights go out treten abstrakte Lichtinstallationen in "Dialog" mit der Natur. Im Zusammenklang ergeben sich wirkungsstarke und stimmungsvolle Bilder, die in demselben Maße idyllisch wie irritierend sind. So entspinnt sich bei genauerem Hinsehen zwischen Natur, Installation und Licht ein Netz feiner Widersprüche. Es vermittelt die persönliche Wahrnehmung des Künstlers vom sich wandelnden Miteinander von Mensch und Natur, das zwischen Abhängigkeit und Entfremdung schwankt. Die Serie Lights go out kann als Guneriussens Kommentar zu einer sich global zuspitzenden Umweltkrise verstanden werden, als Ausdruck seiner Auseinandersetzung mit einem der wohl drängendsten Themen unserer Zeit.

Bislang zählt die Serie Lights go out 29 großformatige Fotoarbeiten. Eine Auswahl wird nun in der ersten musealen Einzelausstellung des Künstlers in Deutschland gezeigt. Zur Schau erscheint ein Katalog in deutscher und englischer Sprache.