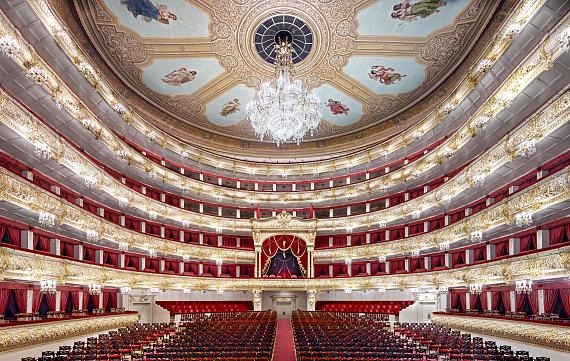 Image and Space / Bild und Raum
Candida Höfer in Dialogue with the Photography Collection of the Kunstbibliothek / im Dialog mit der Sammlung Fotografie der Kunstbibliothek
Exhibition: – 28 Aug 2022
Thu 28 Apr

Museum für Fotografie
Jebensstr. 2
10623 Berlin
+49 (0)30-266424242
mf@smb.spk-berlin.de
www.smb.museum/mf
Tue-Sun 11-19, Thu 11-20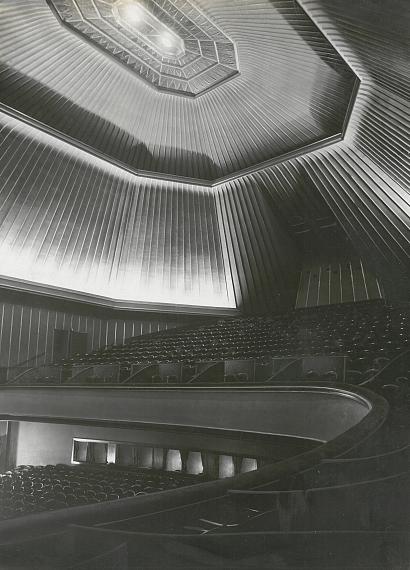 "Image and Space"
Candida Höfer in Dialogue with the Photography Collection of the Kunstbibliothek

Exhibition: 25 March – 28 August 2022
Candida Höfer explores built spaces in her photography. Her world-famous interiors focus on libraries, museums, restaurants, theaters, and other public spaces, allowing us to experience architecture in a new way. In comparison with photographic interiors from the Kunstbibliothek's Photography Collection, which is over 150 years old, a dialogue develops between applied photography and artistic work.

With approximately 90 works, the exhibition at Berlin's Museum für Fotografie opens up a broad cross-section of Candida Höfer's photographs from 1980 to the immediate present. The long tradition of her architectural photographs, however, also extends deep into the classical canon of this field of work. In dialogue with pendants and counter-images from the Kunstbibliothek's Photography Collection, Höfer's particular approach to her pictorial motifs is revealed in a particularly impressive way.

Spaces with communicative functions are paradoxically shown without the people frequenting them: Candida Höfer demonstrates the qualities or deficiencies of the spaces that enable human exchange in terms of the architecture itself, in terms of the atmosphere she specifically captures in each case, in terms of the perspective and the framing she chooses. She does not focus on the thematic groups serially; the respective locations determine the image format as well as the size of the prints. Yet the compilation of the groups offers a variety of possibilities for comparison that impressively confirm the photographer's longstanding and sustained interest in the specific locations.

Some thematic groups exemplify the visually stimulating dialogue of the images: Facades, windows and doors open and close the view into or out of rooms. The dialogue between the pictures unfolds in a particularly attractive way in the photographs of Berlin's Museumsinsel. While the razor-sharp, large-format contact prints by the Königlich Preußische Messbildanstalt still show the monumental staircase with Wilhelm von Kaulbach's frescoes, Ryuji Miyamoto in 2000 captures the transitory state of the still ruinous building before the start of interior construction, and Candida Höfer in 2009 shows its completion.

Previously unpublished are Höfer's color photographs from her Liverpool series of 1968, from which a thread of development can be drawn to her images of the guest rooms in cafés, hotels, spas, and waiting rooms after 1980. They are brought into conversation with the more journalistically conceived street scenes of Willy Römer and Bernard Larsson, Dirk Alvermann's images of Spanish bar scenes from around 1960, and Helga Paris's photographs of Berlin pubs from the mid-1970s from the Photography Collection.

Candida Höfer (*1944) has devoted herself ever more and more intensively to architectural photography since her studies with Bernd and Hilla Becher at the Düsseldorf Art Academy towards the end of the 1970s. She has concentrated on this important genre without, however, acting on behalf of architects and art historians as photographers of earlier generations did. She sees her work as artistic photography, and photographing interiors was self-determinedly chosen by her as her main field of activity. She herself set the framework for it: "I photograph in public and semi-public spaces from different eras. This are spaces that are accessible to everyone, places of encounter, communication, knowledge, relaxation, recreation. They are spas, hotels, waiting rooms, museums, libraries, universities, banks, churches and, since a few years, zoological gardens."

The exhibition is accompanied by a catalog published by Verlag der Buchhandlung Walther und Franz König, Cologne, ISBN: 978-3-7533-0169-3.
"Bild und Raum"
Candida Höfer im Dialog mit der Sammlung Fotografie der Kunstbibliothek

Ausstellung: 25. März bis 28. August 2022
Candida Höfer erforscht mit ihren Fotografien gebaute Räume. Ihre weltbekannten Interieurs nehmen Bibliotheken, Museen, Gaststätten, Theater und andere öffentlich zugängliche Orte in den Blick, lassen die Architektur neu erleben. Im Vergleich mit fotografischen Interieurs aus der über 150 Jahre alten Sammlung Fotografie der Kunstbibliothek entspinnt sich ein Dialog zwischen angewandter Fotografie und künstlerischer Arbeit.

Die Ausstellung eröffnet mit etwa 90 Werken einen breiten Querschnitt durch die Raumaufnahmen Candida Höfers von 1980 bis in die unmittelbare Gegenwart. Die langen Traditionslinien ihrer Architekturaufnahmen reichen jedoch auch tief in den klassischen Kanon dieses Aufgabengebiets hinein. Im Dialog mit Pendants und Gegenbildern aus der Sammlung Fotografie der Kunstbibliothek erschließt sich der besondere Zugriff Höfers auf ihre Bildmotive besonders eindrücklich.

Orte, die besondere kommunikative Funktionen haben, werden paradoxerweise ohne die sie frequentierenden Menschen gezeigt: Die den menschlichen Austausch ermöglichenden Qualitäten oder Mängel der Räume demonstriert Candida Höfer an der Architektur selbst, an der von ihr jeweils spezifisch erfassten Atmosphäre, an der von ihr gewählten Perspektive und dem Bildausschnitt. Die Themengruppen werden von ihr also nicht seriell in den Blick genommen, die jeweiligen Orte geben für sie das Bildformat wie auch die Größe der Abzüge vor. Doch bietet die Zusammenstellung der Gruppen vielfältige Vergleichsmöglichkeiten, die das langjährige und nachhaltige Interesse der Fotografin an den spezifischen Orten eindrucksvoll bestätigen.

Einige Themengruppen zeigen exemplarisch den visuell stimulierenden Dialog der Bilder: Fassaden, Fenster und Türen öffnen und verschließen den Blick in Räume oder aus ihnen heraus. Besonders reizvoll entspinnt sich das Zwiegespräch der Bilder bei den Aufnahmen von der Berliner Museumsinsel. Zeigen die gestochen scharfen großformatigen Kontaktkopien der Königlich Preußischen Messbildanstalt noch das monumentale Treppenhaus mit den Fresken Wilhelm von Kaulbachs, so erfasst Ryuji Miyamoto im Jahr 2000 den transitorischen Zustand des noch ruinösen Gebäudes vor dem Beginn des Innenausbaus und zeigt Candida Höfer wiederum 2009 dessen Abschluss.

Bisher unveröffentlicht sind Höfers Farbaufnahmen aus ihrer Liverpool-Serie von 1968, von denen sich ein Entwicklungsstrang zu ihren Bildern der Gasträume in Cafés, Hotels, Kuranlagen und Wartesälen nach 1980 ziehen lässt. Sie werden mit den eher journalistisch aufgefassten Straßenszenen von Willy Römer und Bernard Larsson, den Bildern Dirk Alvermanns spanischer Barszenen um 1960 sowie den Aufnahmen von Helga Paris der mittleren 1970er Jahre von Berliner Kneipen aus der Sammlung Fotografie ins Gespräch gebracht.

Candida Höfer (* 1944) widmete sich seit ihrem Studium bei Bernd und Hilla Becher an der Düsseldorfer Kunstakademie gegen Ende der 1970er-Jahre immer intensiver der Architekturfotografie. Sie hat sich auf diese wichtige Gattung konzentriert, ohne jedoch wie Fotografen früherer Generationen im Auftrag von Architekten und Kunsthistorikern tätig zu werden. Sie begreift ihre Arbeit als künstlerische Fotografie, und das Fotografieren von Innenräumen wurde von ihr selbstbestimmt als Haupttätigkeitsfeld ausgewählt. Sie selbst steckte dafür den Rahmen ab: "Ich fotografiere in öffentlichen und halböffentlichen Räumen aus unterschiedlichen Epochen. Es sind Räume, die für jeden zugänglich sind. Es sind Plätze der Begegnung, der Kommunikation, des Wissens, der Entspannung, der Erholung. Es sind Kuranlagen, Hotels, Wartesäle, Museen, Bibliotheken, Universitäten, Banken, Kirche und seit einigen Jahren Zoologische Gärten."

Zur Ausstellung erscheint ein Katalog im Verlag der Buchhandlung Walther und Franz König, Köln.