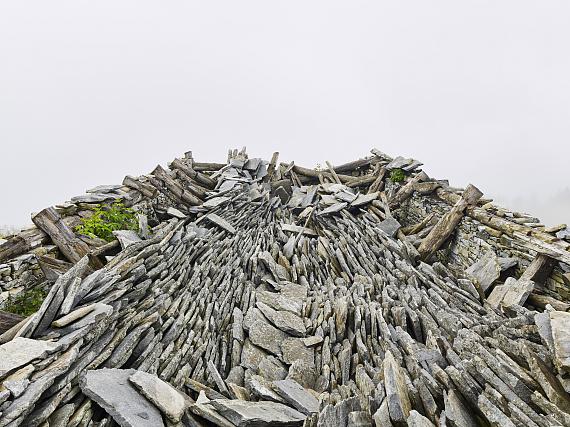 Silent Transition
Exhibition: – 16 Oct 2022
Fri 9 Sep

Fotostiftung Schweiz
Grüzenstr. 45
8400 Winterthur
+41 52 -234 10 30
info@fotostiftung.ch
www.fotostiftung.ch
Tue-Sun 11-18, Wed 11-20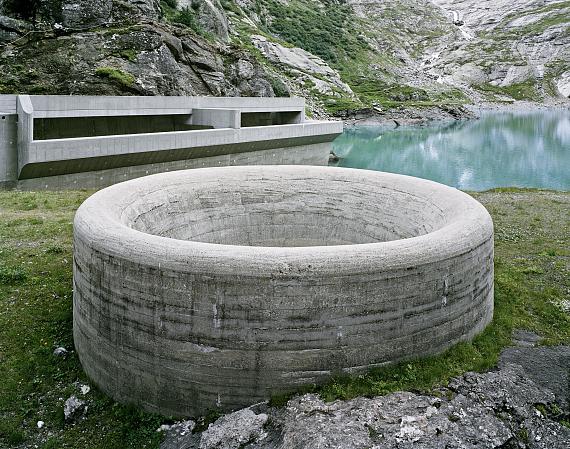 Georg Aerni
"Silent Transition"

Exhibition: 11 June – 16 October 2022
Opening: Friday, 10 June, 6pm
Georg Aerni has, in parallel to his work as an architectural photographer, produced a comprehensive artistic oeuvre. Although this has been exhibited sporadically, it is yet to receive any major recognition in a museum context. The exhibition at Fotostiftung Schweiz now focuses on the works he has produced since 2011 and shows Aerni's oeuvre as a significant position within contemporary Swiss photography.

In a consistent continuation of his earlier work, Georg Aerni sheds light on the interfaces between culture and nature, examines urban spaces' language of signs, or devotes himself to the metamorphoses of landscapes and structures. His more recent works also revolve around issues regarding ecology and sustainability, for instance in impressive photographic essays on southern Spain's gigantic stretches of land completely covered by greenhouses, or on wildly sprawling residential developments in Cairo.

Discreetly, without pointing a moralising finger, and sometimes with an ironic undertone, Georg Aerni addresses the use of natural resources, land and topography, or the transience of structures built to last for eternity. Buildings and structures constitute a fundamental theme in the work of Georg Aerni, who was born in 1959 in Winterthur and turned entirely to photography just a few years after completing his architecture studies. He soon made a name for himself in the field of traditional architectural photography, but also stood out as a tireless flâneur and observer. On his forays through city and countryside, Aerni discovered dwellings, constructions and objects of all kinds, which he translated into carefully composed images. Many of his independent artworks still show close links to the theme of architecture, but go far beyond what is commonly understood to be "architectural photography". Aerni's extensive award-winning 2011 monograph Sites & Signs already contained, alongside pictures of urban constellations, a number of works that are difficult to classify: surreal-looking interventions in the landscape; informal or unwitting buildings that show no indication of any plan; or geological formations that could be described as nature's construction sites.

The exhibition Silent Transition brings together around 90 of these new photographs, produced since 2011 as single images or small series, but which can nevertheless be recombined in coherent groups. This results in densifications that are anything but momentary impressions. Associative juxtaposition reveals profound recurring reflection on the interplay (or division) between culture and nature, on landscapes' slow transformation processes, on the temporal dimension of construction, or on the role of chance in our perception. The strength of Aerni's pictures comes across in large-format panels that not only captivate with their creative precision, but also invite the observer to pause and immerse themselves, enticing them to engage in silent meditative contemplation.

Georg Aerni always photographs objectively and calmly, without any pathos or activist intent. At most, a discreet hint of irony is discernible here and there, for instance when he shows gigantic dam walls or flights of stone-carved steps bearing signs of decay; when rust, moss or all kinds of discolouration almost incidentally tell of the ravages of time. Aerni's approach is such that construction sites and ruins, the planned and the unplanned, are not far apart. He devotes himself to tangles of driftwood caught in bushes on a riverbank just as earnestly as to concrete walls and supports used in an attempt to defy a mighty rock face. His consistent sober style effortlessly combines images of structures conceived for the long term with photographs that show the temporary: intermediate storage facilities and installations that give the landscape a new face or become landscape themselves; constructions built for short-term use but then left standing as bizarre remnants; sculptures that were never intended to be sculptures.

Again and again, this photographer directs his gaze towards processes beyond human control, most clearly in works for which nature itself becomes the artist – such as those showing waterfalls temporarily frozen to ice. Even his photographs of imposing alpine cliff faces do not by any means show them to be timeless: Despite all their monumentality, they appear as vulnerable changeable "folds and layers" (Falten und Schichten, the title of the series) marked by erosion, vegetation and the seasons. This photographer lets us peer through the surface and into the past – at time turned to stone.

The exhibition was curated by Peter Pfrunder, director of Fotostiftung Schweiz.

The monograph Georg Aerni – Silent Transition, edited by Peter Pfrunder and Nadine Olonetzky, has been released by publisher Scheidegger & Spiess to coincide with the exhibition.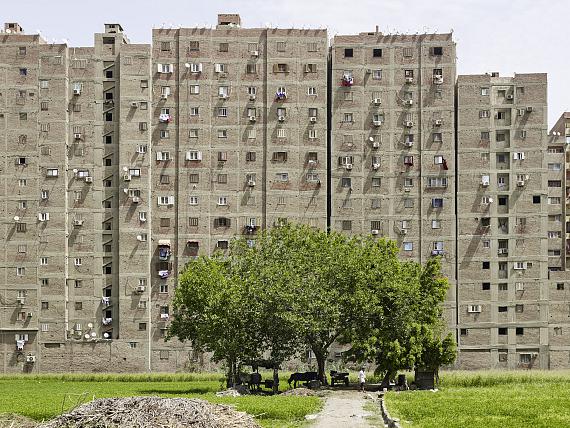 Georg Aerni
"Silent Transition"

Ausstellung: 11. Juni bis 16. Oktober 2022
Eröffnung: Freitag, 10. Juni, 18 Uhr
Georg Aerni hat parallel zu seiner Arbeit als Architekturfotograf ein umfangreiches künstlerisches OEuvre geschaffen. Dieses wurde zwar immer wieder punktuell gezeigt, bis heute fehlt es aber an einer grösseren musealen Würdigung. Die Ausstellung in der Fotostiftung Schweiz rückt nun die seit 2011 entstandenen Arbeiten in den Mittelpunkt und zeigt sein Schaffen als bedeutende Position der zeitgenössischen Schweizer Fotografie.

In konsequenter Fortsetzung seines früheren Werks beleuchtet Georg Aerni die Schnittstellen zwischen Kultur und Natur, untersucht die Zeichensprache urbaner Räume oder widmet sich den Metamorphosen von Landschaften und Bauwerken. Seine neueren Arbeiten kreisen auch um Fragen der Ökologie und Nachhaltigkeit, so etwa in eindrücklichen Bildessays über gigantische, von Gewächshäusern vollständig zugedeckte Landstriche in Südspanien oder wild wuchernde Siedlungen in Kairo.

Unaufdringlich, ohne moralischen Zeigefinger und zuweilen mit ironischem Unterton thematisiert Georg Aerni den Umgang mit natürlichen Ressourcen, Land und Topographie oder die Vergänglichkeit von Bauwerken, die für die Ewigkeit errichtet wurden.

Bauten und Strukturen sind ein Grundthema im Schaffen von Georg Aerni, der 1959 in Winterthur geboren ist und sich bereits wenige Jahre nach Abschluss seines Architekturstudiums ganz der Fotografie zuwandte. Bald machte er sich im Bereich der klassischen Architekturfotografie einen Namen, profilierte sich aber ebenso als unermüdlicher Flaneur und Beobachter. Auf seinen Streifzügen durch Stadt und Land entdeckte Aerni Behausungen, Konstruktionen und Objekte aller Art, die er in sorgfältig komponierte Bilder übersetzte. Viele seiner freien künstlerischen Arbeiten weisen immer noch enge Bezüge zum Thema Architektur auf, doch sie gehen weit über das hinaus, was man gemeinhin unter «Architekturfotografie» versteht. Schon Aernis umfangreiche, preisgekrönte Monografie >em>Sites & Signs von 2011 enthielt neben Bildern von urbanen Konstellationen eine Reihe von Werken, die sich schwer einordnen lassen: surreal wirkende Eingriffe in die Landschaft; informelle oder unbewusste Bauten, die keinen Plan erkennen lassen; oder Geländeformationen, die als Baustellen der Natur bezeichnet werden könnten.

Die Ausstellung Silent Transition versammelt rund 90 dieser neuen, nach 2011 entstandenen Einzelbilder oder kleinen Serien, die sich aber doch wieder zu kohärenten Gruppen zusammenfügen lassen. So ergeben sich Verdichtungen, die alles andere als momenthafte Impressionen sind. In der assoziativen Reihung zeigt sich eine tiefgründige, wiederkehrende Reflexion über das Zusammenspiel – oder die Entzweiung – von Kultur und Natur, über langsame Transformationsprozesse von Landschaften, über die zeitliche Dimension des Bauens oder über die Rolle des Zufalls in unserer Wahrnehmung. Die Kraft von Aernis Bildern kommt in grossformatigen Tableaus zum Ausdruck: Diese fesseln nicht nur durch ihre gestalterische Präzision, sie laden auch zum Innehalten und Eintauchen ein, verführen zur stillen und meditativen Betrachtung.

Georg Aerni fotografiert immer sachlich und unaufgeregt, ohne jedes Pathos und ohne aktivistische Absicht. Da und dort ist allenfalls ein diskreter Anflug von Ironie erkennbar: So zum Beispiel, wenn er gigantische Staumauern oder in Stein gehauene Treppen zeigt, die die Zeichen des Zerfalls in sich tragen; wenn Rost, Moose oder allerlei Verfärbungen fast beiläufig vom Zahn der Zeit erzählen. In Aernis Ansatz liegen Baustellen und Ruinen, Geplantes und Ungeplantes nicht weit auseinander. Den Schwemmholzknäueln, die sich im Gestrüpp eines Flussufers verfangen, widmet er sich mit derselben Ernsthaftigkeit wie den Betonwänden und Stützen, mit denen man einer mächtigen Felswand zu trotzen versucht. Sein konsistent-nüchterner Stil verbindet die Bilder von langfristig konzipierten Bauwerken mühelos mit Aufnahmen, die das Provisorische zeigen: Zwischenlager und Einrichtungen, die der Landschaft ein neues Gesicht geben oder selbst zur Landschaft werden; Konstruktionen, die für befristete Einsätze gebaut sind, dann aber als skurrile Überreste stehen bleiben; Skulpturen, die nie als Skulpturen gedacht waren.

Immer wieder richtet der Fotograf seinen Blick auf Prozesse, die sich der menschlichen Kontrolle entziehen, am deutlichsten in jenen Werken, in denen die Natur selbst zur Künstlerin wird – zum Beispiel bei Wasserfällen, die vorübergehend zu Eis erstarrt sind. Auch seine Aufnahmen von imposanten alpinen Steilwänden sind keineswegs zeitlos: Bei aller Monumentalität erscheinen sie als verletzliche, wandelbare, von Erosion, Vegetation und Jahreszeiten gezeichnete Falten und Schichten (so der Titel der Serie). Der Fotograf lässt uns durch die Oberfläche in die Vergangenheit blicken – auf steingewordene Zeit.

Die Ausstellung wurde kuratiert von Peter Pfrunder, Direktor Fotostiftung Schweiz.

Begleitend zur Ausstellung ist die Monografie "Georg Aerni – Silent Transition" im Verlag Scheidegger & Spiess, herausgegeben von Peter Pfrunder und Nadine Olonetzky, erschienen.