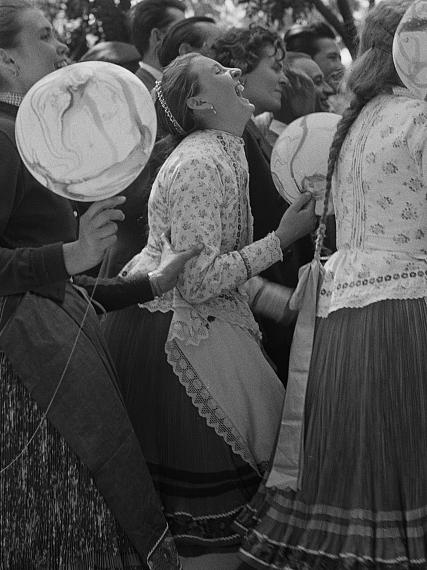 Etwas Licht
Exhibition: 8 Sep – 22 Oct 2022
Sat 22 Oct
Ausstellungshalle 1A
Schulstraße 1A
60594 Frankfurt
+49 (0)69-96 200 188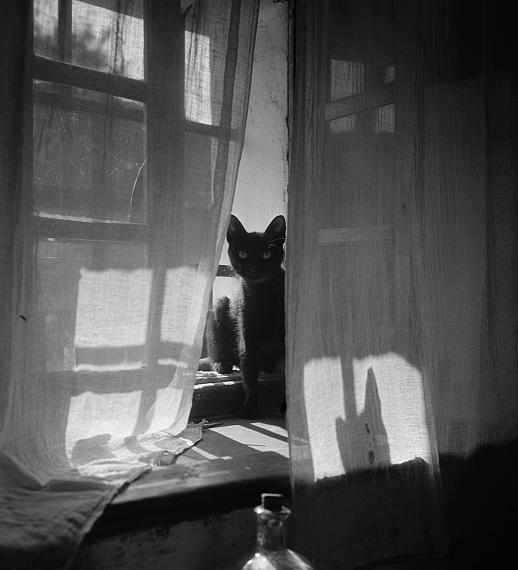 Péter Nádas
"Etwas Licht"

Exhibition: 8 September — 22 October 2022

Opening: Thursday, 8 September, 6 - 8pm
Péter Nádas will be present
The eminent novelist Péter Nádas also enjoys a high reputation as a photographer. Since June 2022, Galerie—Peter—Sillem exclusively represents his photographic work.

For this exhibition, Galerie-Peter-Sillem will be a guest in Frankfurt's Ausstellungshalle Schulstraße 1A and present rare vintage prints of early black-and-white photographs by Péter Nádas, in which he captured Hungarian landscapes, villages, their inhabitants and scenes from everyday life. His exploration of the depths of shadow and light teaches us to "distinguish black from black" (Péter Nádas). The volume Etwas Licht by Péter Nádas was published by Steidl in 1999.

"From the photographic gaze that his prose works thrive on, it is clear that Péter Nádas is an eminent double talent." Neue Zürcher Zeitung

Péter Nádas, born in Budapest in 1942, is a writer and photographer. After an apprenticeship as a photographer, Péter Nádas worked as a photojournalist for various magazines. With novels such as A Book of Memories and Parallel Stories he has inscribed himself in world literature.

Many of his works such as Etwas Licht (1999) and Own Death (2002) combine photography and text. Péter Nádas has also published numerous volumes of his photographs. He has been a member of the Berlin Academy of Arts since 2006. For his literary work, Péter Nádas has been awarded the Austrian State Prize for European Literature (1991), the Kossuth Prize (1992), the Leipzig Book Prize for European Understanding (1995), and the Franz Kafka Literature Prize (2003), among others. In 2014, he was awarded the Würth Prize for European Literature.

His photographs have been shown in numerous exhibitions, including 2000 and 2003 at the Mano May Gallery (House of Hungarian Photographers), Budapest, 2004 at the Museum of Photography in The Hague, 2005 at the Martin-Gropius-Bau Berlin, 2012 and 2018 at the Kunsthaus Zug, and 2022 at the Collegium Hungaricum Vienna. Péter Nádas lives in Gombosszeg, Hungary.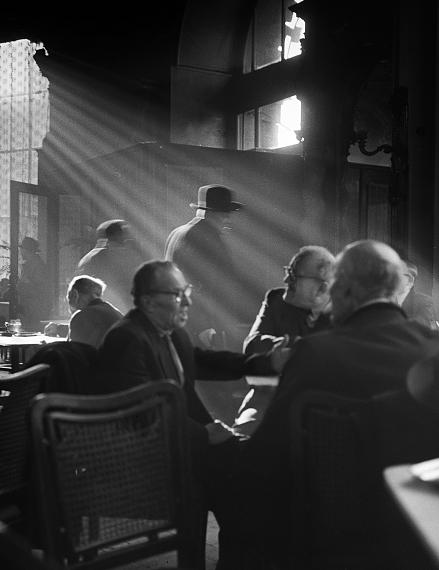 Péter Nádas
"Etwas Licht"

Ausstellung: 8. September bis 22. Oktober 2022
Eröffnung: Donnerstag, 8. September, 18 - 20 Uhr
Péter Nádas wird anwesend sein.

Finissage mit Künstlergespräch: Samstag, 22. Oktober, 11 Uhr
Filmemacher Thomas Claus spricht mit Péter Nádas.
Der große ungarische Schriftsteller Péter Nádas genießt auch als Fotokünstler internationales Ansehen. Seit Juni 2022 vertritt die Galerie—Peter—Sillem exklusiv sein fotografisches Werk.

Für diese Ausstellung ist die Galerie zu Gast in der Frankfurter Ausstellungshalle Schulstraße 1A und zeigt unter dem Titel "Etwas Licht" seltene Vintage-Abzüge früher Schwarzweiß-Fotografien von Péter Nádas, in denen er ungarische Landschaften, Dörfer, deren Bewohner und Szenen aus dem Alltag festgehalten hat. Seine Erkundung der Tiefen von Schatten und Licht lehrt uns, "Schwarz von Schwarz (zu) unterscheiden" (Péter Nádas). Der Bild- und Textband Etwas Licht von Péter Nádas erschien 1999 bei Steidl.

"Am fotografischen Blick, von dem seine Prosawerke leben, wird deutlich, dass Péter Nádas eine eminente Doppelbegabung ist." (NZZ)

Péter Nádas, 1942 in Budapest geboren, ist Schriftsteller und Fotograf. Nach einer Fotografenlehre arbeitete er als Fotojournalist für verschiedene Zeitschriften. Mit Romanen wie Buch der Erinnerung (dt. 1991) und Parallelgeschichten (dt. 2012) hat er sich in die Weltliteratur eingeschrieben. Sein neuer Roman Schauergeschichten erscheint am 11. Oktober 2022 im Rowohlt Verlag.

Seit 2006 ist Péter Nádas Mitglied der Berliner Akademie der Künste; das Péter-Nádas-Archiv wird seit 2018 von der Akademie betreut. Für sein literarisches Werk wurde Péter Nádas u.a. mit dem Österreichischen Staatspreis für Europäische Literatur (1991), dem Kossuth-Preis (1992), dem Leipziger Buchpreis für Europäische Verständigung (1995) und dem Franz-Kafka-Literaturpreis (2003) ausgezeichnet. 2014 wurde ihm der Würth-Preis für Europäische Literatur verliehen.

Seine Fotografien wurden in zahlreichen Ausstellungen gezeigt, so u.a. 2000 und 2003 in der Galerie Mano May (Haus der Ungarischen Fotografen), Budapest, 2004 im Museum of Photography Den Haag, 2005 im Martin-Gropius-Bau Berlin, 2012 und 2018 im Kunsthaus Zug, sowie 2022 im Collegium Hungaricum Wien. Péter Nádas lebt in Gombosszeg, Ungarn.