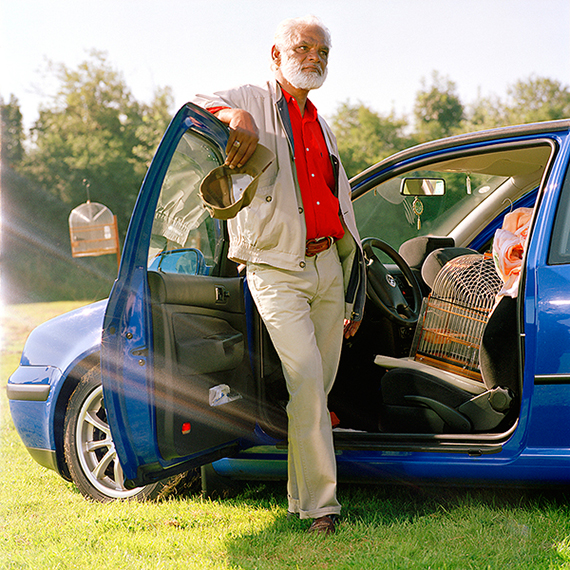 Birdmen
Exhibition: – 25 Sep 2022

Jakarta International Photo Festival (JIPFest)
Jalan Bambu Apus III No. 206. Pondok Bambu
Jakarta
+62 21-860 3627
For the analogue photographed series Birdmen Jacquie Maria Wessels made portraits in Suriname and the Netherlands, of macho Surinamese men who are obsessed with their songbirds. The 'caged bird' is the leading actor in songbird contests. In this 'most popular sport in Suriname' men from all segments of the population come together amiably, in peaceful combat over which bird sings the best and who wins the first prize.

After the independence of Suriname in 1975 many Surinamese people migrated to the Netherlands and brought this popular pastime with them. As a result, this significant Surinamese culture revives in various Dutch cities. Stereotypical male attributes such as clothing, cars and motorcycles play an important role in this lifestyle but in the photographs by Wessels the men also reveal another side of themselves.

With the photo series Birdmen the photo book Cityscapes + Birdmen was published with a selection of 160 photographs in full colour, which will be on show at the Photo Book Exhibition at JIPFest.

Jacquie Maria Wessels' work is exhibited worldwide and is in the collection of various museums and private collections including the Rijksmuseum in Amsterdam (NL), Huis Marseille - Museum for Photography in Amsterdam (NL) and the Surinaams Museum in Paramaribo (SR).

www.jacquiemariawessels.nl
jipfest.com

Outdoor photo exhibition Birdmen from Suriname by Jacquie Maria Wessels
In Indonesia at Jakarta International Photo Festival 2022

Jakarta International Photo Festival 2022 (JIPFest)
Address: Jl. Barito, Kramat Pela, South Jakarta, Indonesia
Dates: 9 – 25 September, 2022

JIPFest 2022 will show the outdoor photo exhibition with the Surinamese Birdmen by the Dutch artist Jacquie Maria Wessels at the Langsat Park in Jakarta, Indonesia between 9 – 25 September 2022. After Greece, the Netherlands, the USA and Suriname, the birdmen can now be seen in Indonesia. JIPFest 2022 curatorial team, Asep Topan, Ayos Purwoaji, and Ng Swan Ti, have selected 21 photography and multimedia works from 17 countries to be exhibited in the upcoming edition of the festival. The selected works all showcase strong perspectives on this year's festival theme 'Revival'.