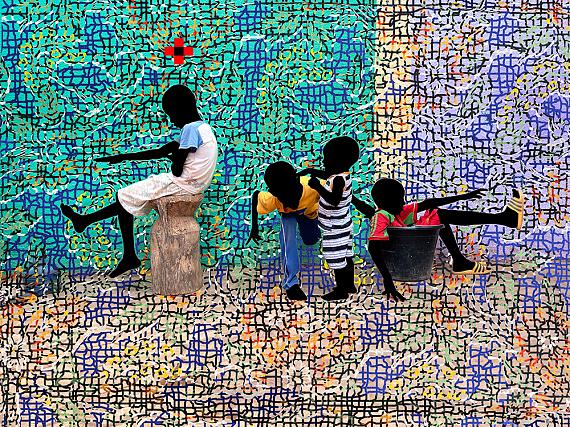 UMRISSENE WELTEN
Exhibition: 14 Sep – 29 Oct 2022

ARTCO Berlin
Frobenstr. 1
10783 Berlin
+ 49 (0)30 -64468090
berlin@artco-art.com
www.artco-gallery.com
Wed-Sat 12-19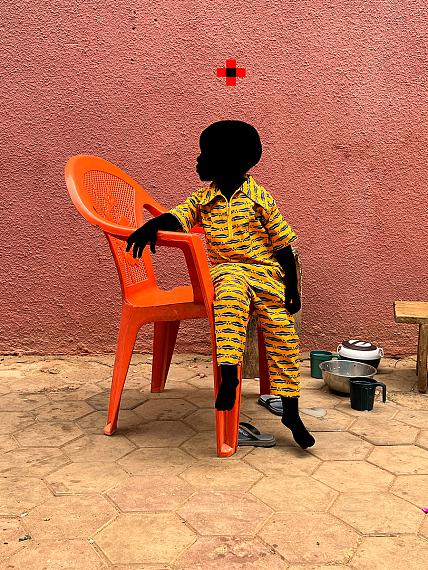 Saïdou Dicko
"Umrissene Welten"

Exhibition: 14 September - 29 October 2022
Opening: Tuesday, 13 September, 6pm
At an early age, Saïdou Dicko (born 1979 in Burkina Faso) realised that he could see clouds not only in the sky but also in the sands of his home town. As a young Fulani shepherd, he looks into the red sands of the Sahel and traces the pillowy shadows cast by the migrating clouds above. First the outlines of his sheep, later the silhouettes of people, all are captured vividly by Dicko on the walls of houses or on the colourful fabrics embroidered by his mother. These shadows remain the core element of his visual storytelling - spanning across his photography, film, installation work and painting.

"As a child, I looked at them (shadows) the way others look at clouds, and invented stories. I started by drawing on the floor and walls, then on fabrics that my mother embroidered."

In his early series of works, THE SHADOW THIEF, he follows his family and friends with a mobile phone camera, tracing their paths and action. But the shadow thief does not rob these people's identity; instead, the alienation of these perspective-broken silhouettes brings us closer to the intimate gestures of the people depicted - emphasising the role of childlike play, hard work, and the complex yet familiar family dynamic.

Abstraction is adopted in the artist's work as a trick to draw the viewer's attention more intently to the social contexts in each scene. We see the characters at petrol stations, sat in conversation on the porches of houses, or riding their bicycles through the capital city of Ouagadougou.

Now living and working in Paris, Dicko has taken this abstraction to the next level. In his latest works, he dips the figures in his photographs in black oil, building another layer into the image, tangible in its physicality. Anonymising the subjects through thick brushstrokes, he breaks down the concept of the individual, democratising his characters by removing key societal indicators such as age, wealth and faith. Dicko's dynamic compositions play out against a background of colourful textiles, the likes of which hark to the beginning of his artistic career and practice.

Dicko has been shown in various international exhibitions, collections and museums, gaining acclaim across these multiple exhibitions and shows.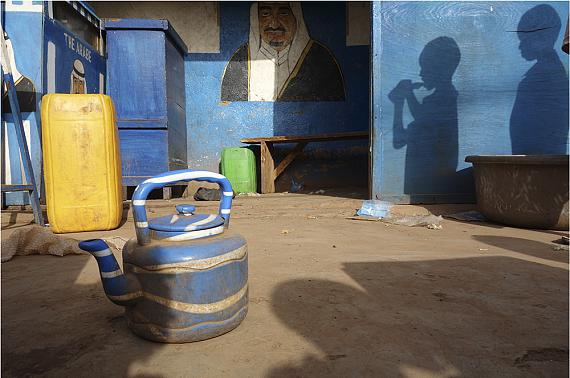 Saïdou Dicko
"Umrissene Welten"

Ausstellung: 14. September bis 29. Oktober 2022
Eröffnung: Dientag, 13. September, 18 Uhr
Saïdou Dicko, geboren 1979 in Burkina Faso, hat früh verstanden, dass Wolken nicht nur am Himmel zu sehen sind. Als junger Fulani-Hirte blickt er in den roten Sahel-Sand und zeichnet die Schatten nach, die er sieht. Zunächst die Umrisse seiner Schafe, später werden daraus die Silhouetten von Menschen, die er auf Häuserwänden oder den farbigen Stoffen seiner Mutter festhält. Die Schatten bleiben ein Stilmittel, dem er bis heute bei der visuellen Erzählung seiner Geschichten - ob in Fotografie, Video, Installationen oder Malerei - treu bleibt.

"As a child, I looked at them (shadows) the way others look at clouds, and invented stories. It started by drawing on the floor and walls, then on fabrics that my mother embroidered".

In seiner frühen Werkserie THE SHADOW THIEF verfolgt er seine Familie und Freunde mit der Handy-Kamera und zeichnet so deren Weg nach. Doch raubt der Schattendieb den Personen mit den oft perspektivisch gebrochenen Silhouetten keinesfalls deren Identität. Für den Künstler geht es mit dieser Entfremdung vielmehr darum, näher an den Gestus der Menschen heranzukommen und die Rolle von kindlichem Spiel, harter Arbeit oder familiären Zusammenhang zu betonen.

Zugleich lenkt die Abstraktion die Aufmerksamkeit auf die sozialen Zusammenhänge, in denen sich die jeweilige Szene abspielt: Wir sehen die Figuren an Tankstellen, vor einfachen Häusern sitzend oder auf dem Fahrrad durch die Hauptstadt Ouagadougou fahrend.

Inzwischen in Paris lebend und arbeitend, geht Dicko in seinen neuen Werken noch einen Schritt weiter. Er taucht die Figuren auf den Fotografien in schwarzes Öl und schafft so eine weitere physische Ebene des Bildes. Die Anonymisierung der Personen durch dicken Pinselstrich nivelliert individuelle Kriterien der abgebildeten Protagonisten wie Alter, Wohlstand, Glauben.

Die dynamischen Kompositionen spielen sich vor dem Hintergrund bunter Textilien ab, die auf die Anfänge seiner künstlerischen Laufbahn und Praxis zurückweisen.