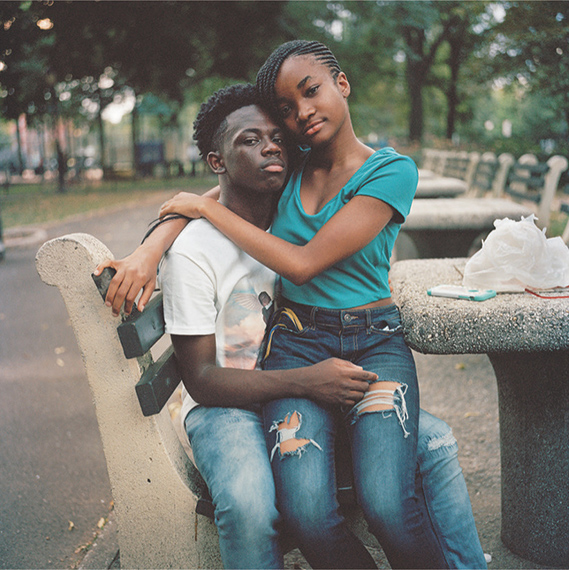 Personal Ties: Bed-Stuy, Brooklyn
New-York Street portraits
Exhibition: – 28 Nov 2022
Thu 10 Nov 18:00 - 21:00

Little Big Galerie
45 rue Lepic
75018 Paris
+33(06-08 66 25 64
littlebiggalerie@beall.fr
www.littlebiggalerie.com
Tue-Fri 14:30-19:30, Sat 11-19:30 +
Amy Touchette is joining Denis Bourges during Paris Photo week at Little Big Galerie
Usual heroes, is a remarquable work done by Denis Borges in the streets of Los Angeles where he caught and framed people in action like possible movie scene,  Arming herself with a camera and a compassionate heart, Amy Touchette photographed ordinary people in her Bedford-Stuyvesant community, creating intimate portraits of personal ties, kinship, and individuality that are now frozen moments in time." books and prints for both work 

New York Street Portraits comprises a selection of photographs by Brooklyn-based fine art photographer Amy Touchette, who has spent the past twenty years making street portraits. The exhibition includes photographs from her latest monograph, Personal Ties: Bed-Stuy, Brooklyn, a series of Rolleiflex street portraits she made in her adopted neighborhood from 2015-2018. Published in January 2022 by Schilt Publishing (Amsterdam), the book includes a foreword by photographer Larry Fink and an afterword by third-generation Bed-Stuy resident, C. Joi Sanchez. Signed copies will be available.

The exhibition also includes photographs from her impromptu street portrait series, Street Dailies. Begun in 2012 and ongoing, with over 2,800 street portraits and counting, these candid iPhone images are made and released regularly by Touchette on Instagram. Her deck of poker-sized playing cards, NYC Street Dailies, are culled from this series and will also be available. A celebration of New York City's denizens, each card features a unique portrait of a New Yorker, and each suit comprises some of her favorites muses: grannies (spades), workers (diamonds), twins & sets (clubs), and quintessential, beloved NYC characters.