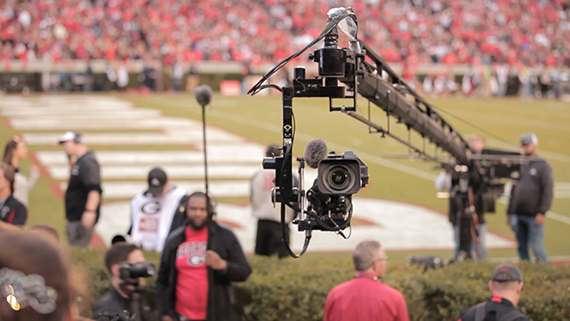 Red Green Blue
Exhibition: – 22 Dec 2022
Paula Cooper
521 West 21st Street
10011 New York
Tue-Sat 10-18

Paula Cooper Gallery
524 West 26th Street
10011 New York
+1-212-255-1105
info@paulacoopergallery.com
www.paulacoopergallery.com
Tue-Sat 10-18
Following the critically acclaimed live performance Amazing Grace / RGB at the Apollo Theater in 2019, Paul Pfeiffer and the University of Georgia Redcoat Band return to New York for the premiere of a new audio-visual installation. Titled Red Green Blue after the image display system based on the human perception of color, the film considers how multiple channels of sensory information are brought into alignment by presenting the Georgia Bulldogs stadium as a broadcast studio. This film is the first chapter of a forthcoming three-part installation.
The sports stadium is a site imbued with the potential to fortify national, regional, or community-based models of identity.[1] Bombarded with carefully orchestrated stimuli, the spectator is immersed in a multi-sensory experience intended to incite an emotional response. In Red Green Blue, Pfeiffer edits audio and visual recordings of the Redcoat Marching Band performing the live musical soundtrack to a football game, examining the mechanics of the spectacle through close- up footage of band members and their directors during and between periods of play. Isolated from the synchronized stadium, the minute corporeal movements of individual musicians, the abrupt stopping and starting of the musical score, and the incomprehensible instructions exchanged through headsets disrupt the intuitive flow of perception and cognition.[2]
Pfeiffer lived and taught at the University of Georgia from 2016 to 2019. While broadly questioning the definition of reality in the age of social media, Pfeiffer also engages the specific circumstances of the Georgia Bulldogs stadium. Just beyond the stadium walls is a cemetery, where the roar of the crowd and the band echo eerily among tombstones, mixing with birdsong. The contrast between these sites introduces a temporal and architectural disparity that recalls the ancient Greek origins of the stadium as a locus of mass ritual, as well as the institutions of slavery and segregation enshrined in the monuments of the past.[3] In Red Green Blue the football players are seen only at moments between play or through the viewfinder of a broadcasting video camera. As with his earlier Caryatid and Four Horsemen of the Apocalypse series, Pfeiffer pivots away from the hero in the spotlight, and through innovative manipulation persuades the viewer to focus instead on the language of spectacle.

Paul Pfeiffer (b. 1966 Honolulu) lives and works in New York. Pfeiffer has had one-person exhibitions at the Whitney Museum of American Art (2001); the Museum of Contemporary Art Chicago (2003 and 2017-18); the National Gallery of Victoria, Melbourne (2005); MUSAC León, Spain (2008); the Hamburger Bahnhof, Berlin (2009) and Sammlung Goetz, Munich, Germany (2011). Pfeiffer has presented work in major international exhibitions in recent years, including the Performa Biennial and the Honolulu Biennial in 2019 and the Toronto Biennial and Seoul Mediacity Biennale in 2022. His work is in the permanent collections of the Museum of Modern Art and the Whitney Museum of American Art, New York; Inhotim Museu de Arte Contemporanea, Inhotim, Brazil; the Pinault Collection; and Kunst Werke, Berlin, among others.