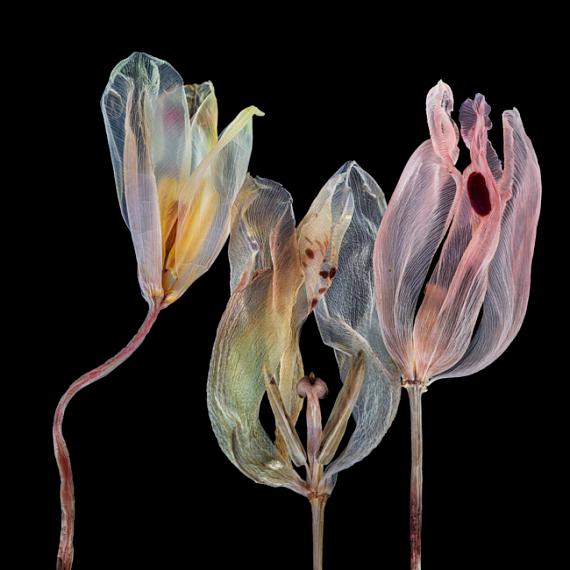 Works
Exhibition: 27 Oct 2023 – 21 Jan 2024
Thu 7 Dec
PHOXXI / Deichtorhallen
Deichtorstr. 1
20095 Hamburg
Tue-Sun 11-18

Halle für aktuelle Kunst / Deichtorhallen
Deichtorstr. 1-2
20095 Hamburg
+49 (0)40-321030
mail@deichtorhallen.de
www.deichtorhallen.de
Tue-Sun 11-18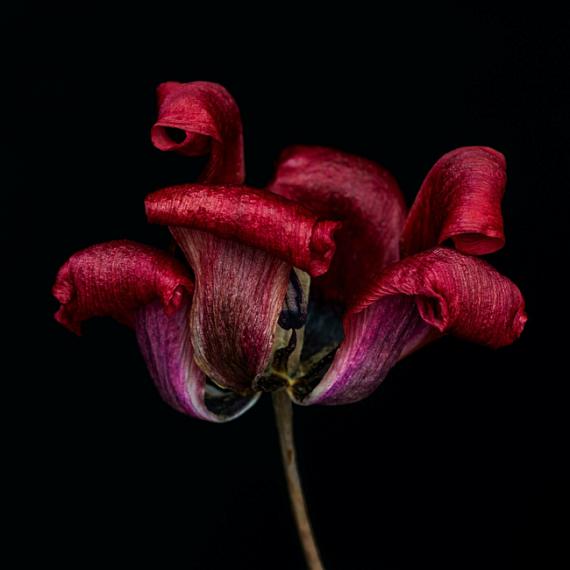 Kathrin Linkersdorffs
"Works"

Exhibition: 27 October 2023 – 21 January 2024
Opening: Thursday, 26 October, 7pm
Kathrin Linkersdorff's (*1966) fascinating large-scale works fluctuate between art and science. With experiments in which the artist explores the nature of plants and thus offers an enlarged view of their fragile inner structures, she works at the intersection of photography and botany. She deliberately sets processes of decay in motion in order to expose the inner structure of flowers and other plants. She captures their revealed structures in staged photographs, for which she uses a variety of photographic techniques, from dye transfer to high-quality archival pigment prints on special cotton paper. Her thinking and the aesthetics of her photographs are rooted in the Japanese concept of wabi sabi, according to which beauty is the acceptance of impermanence, imperfection, and vulnerability.

For her series "Fairies", the artist first collects tulips and carefully dries them over a period of several weeks. During this time, she extracts the pigments from the flowers, which she then reconcentrates into a natural dye. She then immerses the dried, translucent flowers in a liquid medium in which their petals unfold.

In her new research project, which will be shown for the first time at PHOXXI she makes use of bacteria. The resulting new series of works will be created in collaboration with the microbiologist Prof. Dr. Regine Hengge from Excellence Cluster Matters of Activity at Humboldt-Universität zu Berlin. In order to visualize processes that materials undergo in nature, discolored plants and fruits will serve as a growth substrate for bacteria, which form morphologically differentiated and spectacularly colorful colonies with their colored antibiotics. The complex interplay of growth and decay in nature is thus made directly visible.

The exhibiton is curated by Ingo Taubhorn.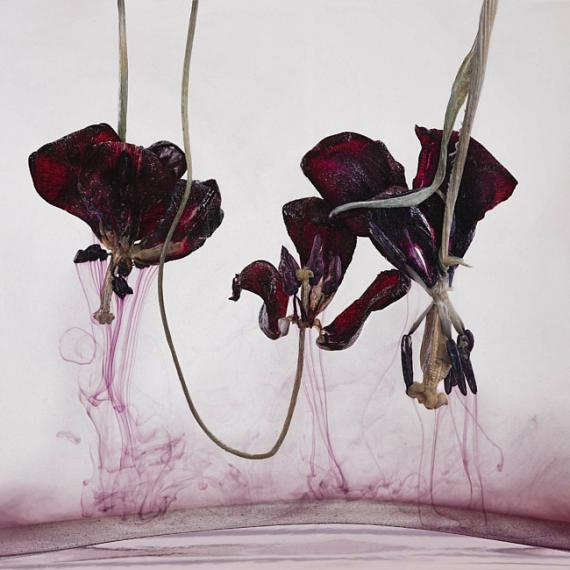 Kathrin Linkersdorffs
"Works"

Ausstellung: 27. Oktober 2023 bis 21. Januar 2024
Eröffnung: Donnerstag, 26. Oktober, 19 Uhr
Kathrin Linkersdorffs (*1966) faszinierende Arbeiten fluktuieren zwischen Kunst und Wissenschaft. Die großformatigen Werke enthüllen unsichtbare Welten aus der Botanik, die dem bloßen Auge verborgen bleiben und nur über das Medium Fotografie sichtbar werden. Kuratiert von Ingo Taubhorn werden neben ihren bekannten Werken aus den "Fairies"-Serien sowie den Serien "Floriszenzen", "Wabi Sabi", "Re-Naissance" auch die beiden neuen Werkserien "Microverse I" und "Microverse II" erstmalig zu sehen sein.

Mit prozesshaften Methoden aus der Mikrobiologie, experimentellen Ansätzen und Testreihen inszeniert sie künstlerische Momentaufnahmen, die bestimmte Zeitpunkte im organischen Verfallsprozess von Pfanzen festhalten. Damit beleuchtet sie das komplexe Zusammenspiel von Werden und Vergehen in der Natur. Ihre neusten Arbeiten "Microverse I" und "Microverse II" befassen sich mit biologischen Veränderungsprozessen und Stoffkreisläufen, die durch Bakterien hervorgerufen werden. Die erstmalig im Phoxxi präsentierte Werkreihe entstand im direkten Austausch mit der Mikrobiologin Prof. Dr. Regine Hengge vom Excellence Cluster Matters of Activity an der Humboldt-Universität zu Berlin, an der Linkersdorff z.Zt. Artist in Residence ist. Um natürliche Stoffkreislaufprozesse zu visualisieren, dienen entfärbte Pflanzen und Früchte als Wachstumssubtrat für Bakterien, die darauf morphologisch differenzierte und durch ihre farbigen Antibiotika spektakulär bunte Kolonien bilden. Das komplexe Zusammenspiel von Werden und Vergehen in der Natur wird so direkt sichtbar gemacht.

Linkersdorffs Werke befinden u.a. in der ständigen Sammlung des Philadelphia Museum of Art und wurden in zahlreichen Ausstellungen von London bis Paris und Florida ausgestellt. Die Künstlerin lebt und arbeitet in Berlin. Parallel zur Ausstellung im Phoxxi der Deichtorhallen Hamburg präsentiert die Yossi Milo Gallery New York ihre erste Einzelausstellung in den USA bis Oktober 2023.

Mit dieser Ausstellung verabschiedet sich Ingo Taubhorn als Kurator des Hauses der Photographie.