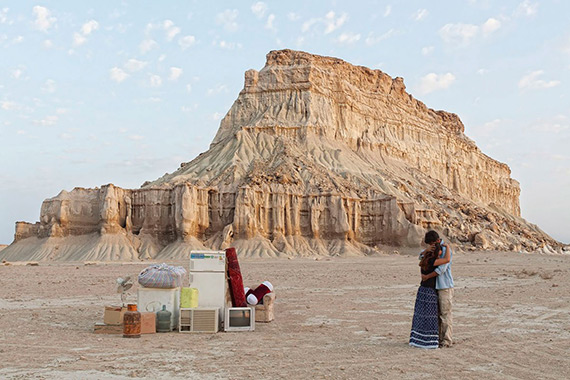 FRAGMENTS OF MEMORIES
Festival La Gacilly-Baden Photo 2023
Exhibition: 15 Jun – 15 Oct 2023
Mon 12 Jun

Festival La Gacilly-Baden Photo
Dumbagasse 9
2500 Baden
+43 2252-42269
festival@lagacilly-baden.photo
festival-lagacilly-baden.photo
Festival La Gacilly-Baden Photo
ORIENT!

Baden near Vienna:

The largest outdoor photography festival in Europe will take place
from 15 June until 15 October 2023.

festival-lagacilly-baden.photo
Gohar Dashti was born in Iran not far from the Iraqi border the same year the war broke out between the two countries, tearing the lives of thousands of families apart until 1988. Dashti's family was one of them. " This conflict had a strong symbolic influence on the emotional existence of my generation ," the photographer and filmmaker explains. In her Today's Life and War series, she captures moments that reference the duality of life going on despite the ravages of war. " In a fictionalised battlefield, I show a couple living their everyday life. The man and woman embody the power of perseverance, determination and surviva l." Surreal and almost farcical scenes are portrayed in this series in which we find the couple at the wheel of a car in the middle of a wasteland with a tank in the background or, more dramatically, reading a newspaper in front of a bomb shelter.

This photographic series, which dates back to 2008, brought Gohar Dashti international fame and has been exhibited by various museums in Europe and the United States. Since this timeless work, which retains its evocative power 15 years on, her approach has evolved along with her style, which is both aesthetic and documentary, her eye constantly seeking new perspectives. This is evident in the other works on show at La Gacilly, testifying to our relationship with our environment. She explains: " People are ephemeral but nature is constant: it will still be there long after we are gone ."
In total, five series are exhibited here, all with their own unique concept. These intelligent and subtle works use geography as a narrative tool to tell the story of people and their relationship with the world they inhabit – as is the case in Land/s where photographs are used to symbolise the spiritual connection and nostalgic relationship between the locals and their environment. Among these five series, one is exclusively exhibited: Near and Far . Completed in 2022 in collaboration with Iranian artist Hamed Noori, this photographic kaleidoscope is inspired by Islamic architecture, landscapes and arts – a project that applies the Western tradition of naturalist photography with the Persian approach to perspective and geometry. This series is a true visual dialogue between two cultures.
Festival La Gacilly-Baden Photo
ORIENT!

Baden bei Wien:
Europas größtes Outdoor-Fotofestival findet vom 15. Juni bis 15. Oktober 2023 statt.