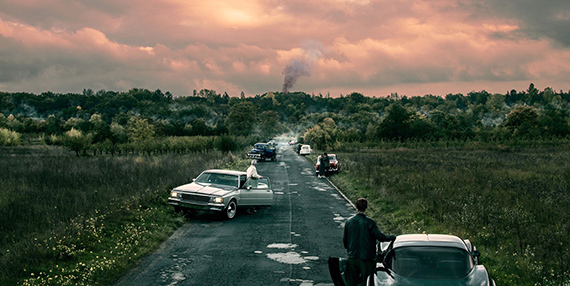 Nightmare in Paradise
Exhibition: 16 Sep – 28 Oct 2023
Sat 16 Sep

nüüd.berlin gallery
Kronenstr. 18
10117 Berlin
+49-(0)1577 533 08 89
info@fine-art.berlin
www.nüüd.berlin
Thu-Sat 13-19 + b.a.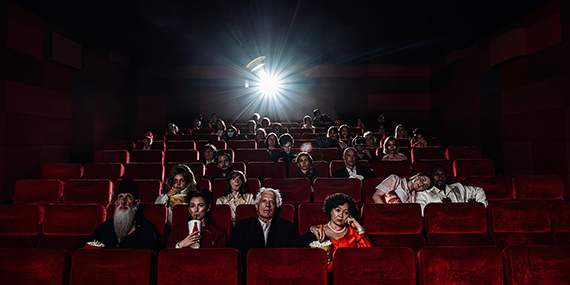 Moritz Koch "Nightmare in Paradise" Exhibition: 16 September – 28 October 2023
Opening: Friday, 15 September, 7pm

Artist Tour: Saturday, 16 September, 4pm

Finissage & Artist Talk: Saturday, 28 October, 4pm
Closed roads, numerous vintage cars, elaborate costumes and up to 150 performers - all for a great work of photographic art. Under the title "NIGHTMARE IN PARADISE", the nüüd.berlin gallery will be showing photographic works by the young Mainz-based photo director and artist Moritz Koch. In his new, ten-part photo series, he tells the story of the extraterrestrial being Minerva, who comes to Earth to sensitise people to existential matters.

The 21st century is a time of profound change: People are increasingly seduced by the lure of populism, fleeing from the growing complexity of the world, and our societies are splitting in the face of a global crisis. How will we look back on our present in the future?

This is one of the questions that the young photo director Moritz Koch (*2000 in Mainz) explores in his new series "NIGHTMARE IN PARADISE", which he worked on for three years, and invites the viewer on a journey into the future.

In the process, he tells of the extraterrestrial being Minerva, who comes to Earth to sensitise people to existential matters. In the large-format works, staged down to the smallest detail, he processes visions of the future, from utopia to dystopia: speed, the search for meaning, the mania for optimisation or climate change are just as much themes as the reflection of interpersonal structures and conflicts. As a purely rationally created being, Minerva increasingly comes into conflict with human emotion during her stay on Earth and realises that political influence, discourse and decisions are made more emotionally and relentlessly than ever before. But this is not the only reason why her mission threatens to fail: almost omnipotent powers try to stop Minerva's activism - at any price.

The story of Minerva is told fragmentarily in ten large-format photographs - from Minerva's arrival to Minerva's wedding to her funeral - with the artist addressing one or more of his main themes in each work, which can also stand independently of the other works in the series. What is special about Moritz Koch's art, apart from the huge production effort, is that he tells a well thought-out story with his works, into which the viewers can imagine themselves. Similar to a concept album in music, the works in the exhibition are works in the exhibition hang together, although each work can also stand on its own.

Stylistically, the artist works with a contrast between past and future. Inspired by the 50s and 60s, the aesthetics are by no means chosen at random, but are part of the narrative: the people depicted in Moritz Koch's world of images take refuge from complex problems and a lack of emotion in a superficial nostalgia. Even today, a veritable recycling is taking place in pop culture - in fashion, music or design, it is impossible to imagine life without the "vintage" trend. At the same time, the works are not as nostalgic and harmonious as they might seem at first glance: when Minerva's wedding is staged as a "crime scene" or in "In Happiness We Die" an unknown creature arrives through the field, something is wrong, one stumbles and grapples with the work. As a viewer, you can come back to the photographs again and again because they critically address issues that affect humanity as a whole in the long term.

The digitally shot photographs are elaborately staged like a film: dozens of vintage cars, countless props, special costumes and up to 150 actors with special SFX make-up are staged for a single photo after months of preparation. Nothing is left to chance, so that detailed works of art are created that always reveal new details even after prolonged viewing - like large hidden object pictures.

Bringing people together and inspiring them to exchange ideas is particularly important to Moritz Koch - especially in times of social division. Already in the process of creating his works, countless people, most of them volunteers, help to realise the artist's ideas. Not only professionals are involved on the set: a colourful gathering of people from the most diverse fields, both in front of and behind the camera, creates a special dynamic that welds people together. In this way, people who have previously had little or no interest in art are introduced to it, and by participating in the creation of the works, the inhibition threshold to visit galleries or other places of art and to deal with it is overcome.

The exhibition is accompanied by multimedia content, for example making-of videos of the productions. In addition, a 360° photograph will be presented via VR glasses - with this, the artist attempts to overcome the distance between the work and the viewer and thus create an immersive art experience. The insights behind the scenes of the productions are intended to make Moritz Koch's works more accessible.

strong>Moritz Koch (*2000 in Mainz) is a self-taught photo artist and "photo director". He discovered staged photography for himself at the age of 16. After several smaller exhibitions, he had a very successful solo exhibition at the age of 18 in the 800 m² gallery of the Mainz Town Hall. With his large-format photographs, however, the young artist not only wants to inspire people with appealing aesthetics and trigger emotions, but also to tell moving stories, bring people together and encourage an exchange of ideas. As in the process of creating his works, the focus is also on people in terms of content. The aesthetics of his works, to which he himself ascribes a "post-futuristic character", have a nostalgic effect. Visual references to the Space Age or Jackie Kennedy can be found as well as allusions to the American photographer Gregory Crewdson.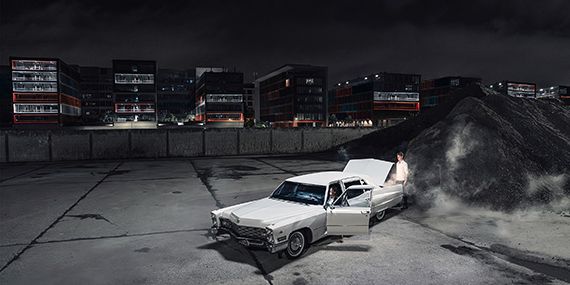 Moritz Koch
"Nightmare in Paradise"

Ausstellung: 16. September bis 28. Oktober 2023
Eröffnung: Freitag, 15. September, 19 Uhr

Künstlergespräch & Führung durch die Ausstellung: Samstag, 16. September, 16 Uhr

Finissage & Künstlergespräch: Samstag, 28. Oktober, 16 Uhr
Das 21. Jahrhundert ist eine Zeit tiefgreifender Veränderungen: Menschen lassen sich vermehrt von den Verlockungen des Populismus verführen, fliehen vor der wachsenden Komplexität der Welt und unsere Gesellschaften spalten sich angesichts einer globalen Krise. Wie werden wir in Zukunft auf unsere Gegenwart zurückblicken?

Unter anderem dieser Frage geht der Moritz Koch (*2000 in Mainz) in seiner neuen Serie "NIGHTMARE IN PARADISE" nach, an der er drei Jahre gearbeitet hat, und lädt den Betrachter auf eine Zeitreise in die Zukunft ein.

Gesperrte Straßen, zahlreiche Oldtimer, aufwendige Kostüme und bis zu 150 Darsteller:innen – alles für ein großes Fotokunstwerk. Unter dem Titel "Nightmare in Paradise" zeigt die Galerie nüüd.berlin die neue, zehnteilige Fotoserie des jungen Mainzer Foto-Regisseurs und Künstlers Moritz Koch, die von dem außerirdischen Wesen Minerva erzählt, das auf die Erde kommt, um Menschen für existenzielle Dinge zu sensibilisieren.

Dabei erzählt er von dem außerirdischen Wesen Minerva, das auf die Erde kommt, um Menschen für existenzielle Dinge zu sensibilisieren. In den großformatigen, bis ins kleinste Detail inszenierten Werken verarbeitet er Visionen der Zukunft, von der Utopie bis zur Dystopie: Schnelligkeit, Sinnsuche, Optimierungswahn oder Klimawandel sind ebenso Themen wie die Reflexion zwischenmenschlicher Strukturen und Konflikte. Als rein rational geschaffenes Wesen gerät Minerva während ihres Aufenthalts auf der Erde immer öfter in Konflikt mit der menschlichen Emotion und begreift, dass politische Beeinflussung, Diskurse und Entscheidungen emotionaler und unerbittlicher getroffen werden als jemals zuvor. Doch ihre Mission droht nicht nur deshalb zu scheitern: schier omnipotente Mächte versuchen Minervas Aktivismus zu unterbinden – um jeden Preis.

Die Geschichte der Minerva wird fragmentarisch in zehn großformatigen Fotografien erzählt – von Minervas Ankunft über Minervas Hochzeit bis zu deren Beerdigung -, wobei der Künstler sich in jedem Werk einem oder mehreren seiner Hauptthemen zuwendet, die auch unabhängig von den anderen Werken der Serie stehen können. Besonders an der Kunst von Moritz Koch ist neben dem riesigen Produktions-Aufwand auch, dass er mit seinen Werken eine durchdachte Geschichte erzählt, in die sich die Betrachter:innen hineindenken können. Ähnlich wie bei einem Konzept-Album in der Musik, hängen die Werke der Ausstellung zusammen, wenngleich jede Arbeit auch für sich alleine stehen kann.

Stilistisch arbeitet der Künstler mit einem Kontrast zwischen Vergangenheit und Zukunft. Inspiriert von den 50er und 60er Jahren ist die Ästhetik keineswegs zufällig gewählt, sondern Teil des Narrativ: Die in Moritz Kochs Bilderwelt dargestellten Personen flüchten vor komplexen Problemen und einem Mangel an Emotionen in eine oberflächliche Nostalgie. Schon heute findet in der Pop-Kultur ein regelrechtes Recycling statt - in Mode, Musik oder Design ist der "Vintage"-Trend nicht mehr wegzudenken. Gleichzeitig sind die Arbeiten nicht so nostalgisch und harmonisch, wie dies auf den ersten Blick erscheinen mag: Wenn Minervas Hochzeit als "crime scene" inszeniert wird oder in "In Happiness We Die" ein unbekanntes Wesen durch das Feld ankommt, stimmt etwas nicht, man stolpert und setzt sich mit der Arbeit auseinander. Als Betrachter:in kann man auf die Fotografien immer wieder zurückkommen, weil sie kritisch Themen aufgreifen die die Menschheit insgesamt langfristig betreffen.

Die digital aufgenommenen Fotografien sind aufwändig inszeniert wie ein Film: Dutzende Oldtimer, unzählige Requisiten, besondere Kostüme und bis zu 150 Darsteller:innen mit besonderem SFX-Make-Up werden nach monatelanger Vorbereitung für ein einziges Foto in Szene gesetzt. Nichts wird dem Zufall überlassen, so dass detailreiche Kunstwerke entstehen, die auch nach längerer Betrachtung immer wieder neue Details offenbaren – wie bei großen Wimmelbildern.

Menschen zusammenbringen und zum Gedankenaustausch zu inspirieren ist Moritz Koch - gerade in Zeiten gesellschaftlicher Spaltung –, besonders wichtig. Bereits im Entstehungsprozess seiner Werke wirken unzählige Menschen größtenteils ehrenamtlich mit, die Ideen des Künstlers umzusetzen. Nicht nur Profis sind am Set mit dabei: ein buntes Zusammentreffen von Menschen aus den unterschiedlichsten Bereichen sowohl vor, als auch hinter der Kamera schafft eine besondere Dynamik, die zusammenschweißt. So sollen auch Menschen, die sich bislang weniger oder gar nicht für Kunst interessiert haben, an die Kunst herangeführt und durch das Mitwirken beim Schaffen der Arbeiten die Hemmschwelle überwunden werden, Galerien oder andere Orte der Kunst zu besuchen und sich hiermit auseinanderzusetzen.

Die Ausstellung wird von multimedialen Inhalten begleitet, zum Beispiel Making-Of-Videos der Produktionen. Außerdem wird eine 360°-Fotografie über eine VR-Brille präsentiert - hiermit versucht der Künstler die Distanz zwischen Werk und Betrachter:in zu überwinden und so ein immersives Kunsterlebnis zu kreieren. Durch die Einblicke hinter die Kulissen der Produktionen sollen die Werke von Moritz Koch weiter zugänglich gemacht werden.

Moritz Koch (*2000 in Mainz) ist ein autodidaktischer Fotokünstler und "Foto-Regisseur". Bereits im Alter von 16 Jahren entdeckte er die inszenierte Fotografie für sich. Nach einigen kleineren Ausstellungen bespielte er schon mit 18 Jahren in einer großen Einzelausstellung sehr erfolgreich die 800 m² große Galerie des Mainzer Rathauses. Mit seinen großformatigen Fotografien möchte der junge Künstler allerdings nicht nur durch eine ansprechende Ästhetik begeistern und Emotionen auslösen, sondern auch ergreifende Geschichten erzählen, Menschen zusammenbringen und zum Gedankenaustausch anregen. Wie im Entstehungsprozess seiner Werke steht auch inhaltlich der Mensch im Fokus. Nostalgisch wirkt die Ästhetik seiner Werke, denen er selbst einen "post-futuristischen Charakter" zuschreibt. Visuelle Referenzen an das Space-Age oder Jackie Kennedy sind ebenso zu finden wie Anlehnungen an den amerikanischen Fotografen Gregory Crewdson.