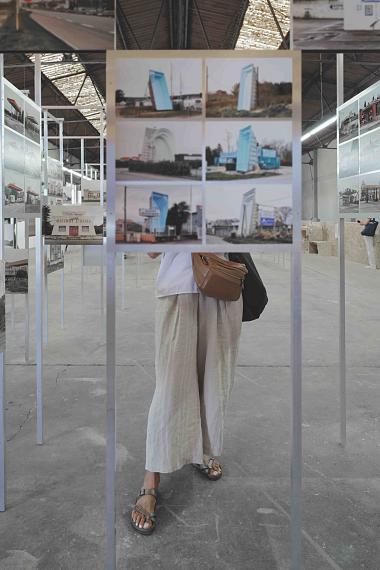 CONTREVUES
Saison 2023 – 2024: FORMENSPRACHE
Exhibition: 14 Oct 2023 – 7 Oct 2024
CLERVAUX - CITÉ DE L'IMAGE
11, Grand-Rue
9710 Clervaux
+352-27 800 283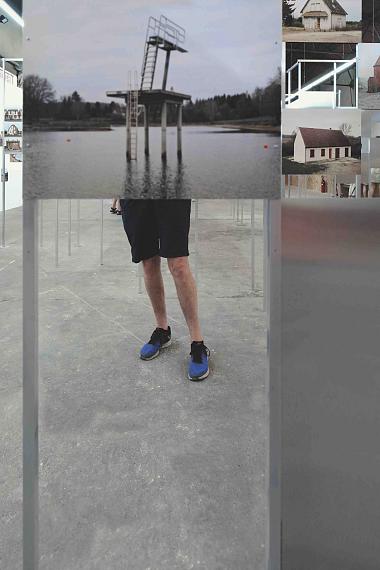 Steph Meyers
"CONTREVUES"

Arcades I, Grand-Rue
EN

The series "Contrevues" (Juxtapositions) was realised at the Rencontres d'Arles in July 2023. It questions the gaze of the viewer of photographs, which is anonymised by the framing of the image. Strictly speaking, it is the seeing that is simultaneously emphasised and negated by the photographer's gaze. The experience of visiting a photo exhibition is represented by the mise en abîme (also known as the Droste effect, an infinite repetition of an image within an image) in order to better reflect on the encounter with the work. In this series, the encounter is doubled, creating a distance between what is shown and what is seen. Or according to the dialectic proposed by Georges Didi-Huberman - "what we see, what looks at us" - to better question what is gained and what is lost by looking.

Here, the viewer is placed at the centre and becomes the object of the shot, while his attention is entirely focused on what escapes us, what we are forbidden to see. Paradoxically, the viewer's activity is highlighted while the gaze is dazzled, in a deliberate confusion between object and subject of the photograph. This performativity of the image, which operates with double tension in this series, thus seems to replace the gaze.

The title of the series suggests this reflexivity, in reference to the derivative terms counterfield in cinema or counterpoint in music. The back takes shape, becomes a work of art, also in a playful way, by showing itself from behind.

Steph Meyers has been director of the Rotondes since 2016. From 2009 to 2019, he organised the Troc'n'Brol art market at the Rotondes and also participated with various works (photography, design, visual arts). From 2008 to 2016, he was responsible for the general programme and in particular for the visual arts of the CarréRotondes and then the Rotondes. He also coordinated the socio-cultural projects within the framework of the European Capital of Culture Luxembourg 2007.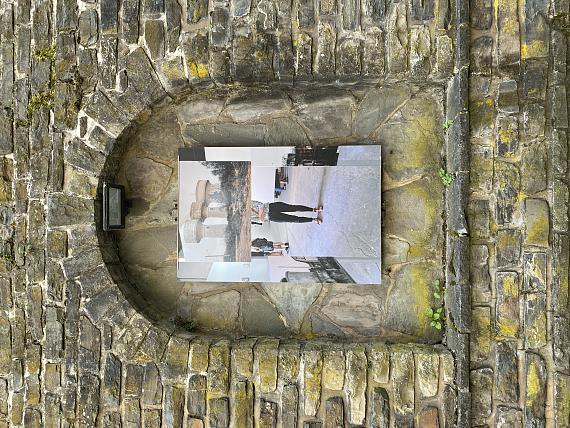 DE

Die Serie "Contrevues" (Gegenüberstellungen) wurde bei den Rencontres d'Arles im Juli 2023 realisiert. Sie hinterfragt den Blick der Betrachter von Fotos, der jedoch durch den Bildausschnitt anonymisiert wird. Genau genommen ist es das Sehen, das durch den Blick des Fotografen gleichzeitig hervorgehoben und verneint wird. Die Erfahrung eines Besuchs einer Fotoausstellung wird mit dem Mise en Abîme (u.a. auch als Droste-Effekt bekannt, eine unendliche Wiederholung eines Bildes im Bild) dargestellt, um die Begegnung mit dem Werk besser reflektieren zu können. In dieser Serie verdoppelt sich die Begegnung und schafft eine Distanz zwischen dem, was gezeigt und dem, was gesehen wird. Oder gemäß der Dialektik, die von Georges Didi-Hubermans Formel vorgeschlagen wird - "was wir sehen, was uns anschaut" -, um besser hinterfragen zu können, was man beim Betrachten gewinnt und was man verliert.

Der Betrachter wird hier in den Mittelpunkt gestellt und zum Objekt der Aufnahme, während seine Aufmerksamkeit ganz auf das gerichtet ist, was uns entgeht, was uns zu sehen verboten ist. Paradoxerweise wird die Aktivität des Betrachters hervorgehoben, während der Blick geblendet wird, in einer absichtlichen Verwechslung zwischen dem Objekt und dem Subjekt der Fotografie. Diese Performativität des Bildes, die in dieser Serie mit doppelter Spannung agiert, scheint so den Blick zu ersetzen.

Der Titel der Serie deutet diese Reflexivität an, in Anlehnung an die abgeleiteten Ausdrücke Gegenfeld im Kino oder Kontrapunkt in der Musik. Die Rückseite nimmt Gestalt an, wird zum Werk, auch auf spielerische Weise, indem sie sich von hinten zeigt.

Steph Meyers ist seit 2016 Direktor der Rotondes. Von 2009 bis 2019 organisierte er den Kunstmarkt Troc'n'Brol in den Rotondes und nahm auch mit verschiedenen Werken (Fotografie, Design, bildende Kunst) teil. Von 2008 bis 2016 war er verantwortlich für das allgemeine Programm und insbesondere für die visuelle Kunst des CarréRotondes und anschließend der Rotondes. Außerdem koordinierte er die soziokulturellen Projekte im Rahmen der Europäischen Kulturhauptstadt Luxemburg 2007.

FR

La série "Contrevues" a été réalisée aux Rencontres d'Arles en juillet 2023. Elle interroge le regard des spectateurs de photos, pourtant anonymisé par le cadrage. Précisément, c'est la vue qui est à la fois mise en exergue et niée par le regard du photographe. L'expérience d'une visite d'exposition de photo est mise en abîme pour mieux réfléchir la rencontre avec l'œuvre. Dans cette série, la rencontre se dédouble, créant une distance entre ce qui est montré et ce qui est vu. Ou bien, selon la dialectique proposée par l'heureuse formule de Georges Didi-Huberman - « ce que nous voyons, ce qui nous regarde » - pour mieux interroger ce qu'on gagne et ce qu'on perd en regardant.

Le spectateur est ici mis au centre du dispositif et devient l'objet de la prise de vue, alors que son attention est tout entière tournée vers ce qui nous échappe, ce qui nous est interdit de voir. Paradoxalement, alors que le regard est aveuglé, c'est pourtant bien l'activité du spectateur qui est mise en relief, dans une confusion volontaire entre l'objet et le sujet de la photographie. Cette performativité de l'image, qui agit en double détente dans cette série, semble ainsi se substituer au regard.

Le titre de la série suggère cette réflexivité, dans le sillage des expressions dérivées de contre-champ au cinéma ou contrepoint en musique. Une opposition prend forme, fait œuvre, sur un mode ludique aussi, en se montrant de dos.

Steph Meyers est directeur des Rotondes depuis 2016. De 2009 à 2019, il a organisé le marché artistique Troc'n'Brol aux Rotondes, et y a également participé avec diverses œuvres (photo, design, arts plastiques). De 2008 à 2016, il a été responsable de la programmation générale, et plus spécifiquement des arts visuels du CarréRotondes, puis des Rotondes. Il a également coordonné les projets socioculturels au sein de la direction de la Capitale européenne de la culture Luxembourg 2007.