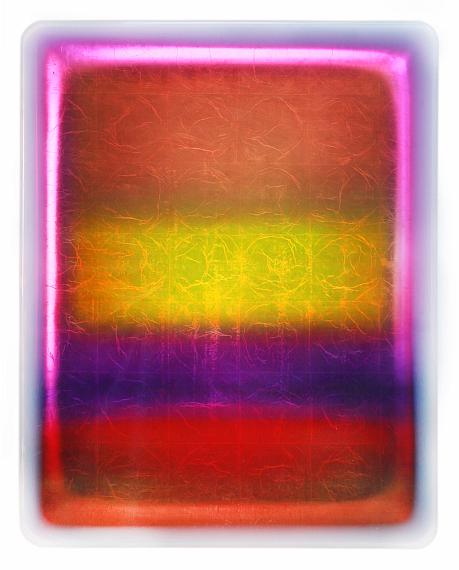 Giovanni Castell
Exhibition: 17 Nov 2023 – 12 Jan 2024
Fri 17 Nov 18:00

Galerie Nikolaus Ruzicska
Faistauergasse 12
5020 Salzburg
+ 43 662-630360
salzburg@ruzicska.com
www.ruzicska.com
Tue-Fri 10-18, Sat 10-14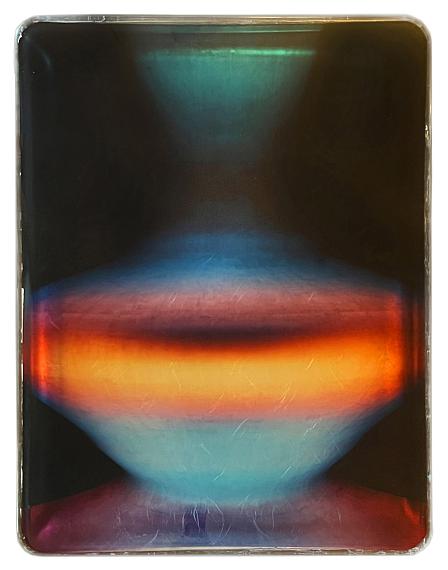 Giovanni Castell

Exhibition: 17 November, 2023 – 12 January, 2024
Opening and conversation with the artist: Friday, 17 November, 6pm
New works by Giovanni Castell (b. Munich, D, 1962) are on display in the gallery's upstairs showroom. The technically complex silkscreen prints on epoxy resin have the aura of luminous paintings fixed on the support medium by photographic means. "Light, to me, is a symbol of love, hope, and salvation, of finding new guidance in this dark and gloomy world," Giovanni Castell emphasizes.

The intense shimmering colors and the three-dimensional structure endow the works with a blazing radiance and a beguiling evocation of spatial depth. They pose a challenge to our visual habits while eliciting a kind of nostalgia rooted in our cultural memory. Pictures full of intensity and bracing emotional power are reminiscent of an ideal world steeped in utopian visions and a creative gesture that blends figurative elements with abstract landscapes.

Their deliberately painterly style reveals Giovanni Castell's admiration for the American painter Mark Rothko, a widely hailed pioneer of color field painting, which grapples with the manifestations of color and their integration into a compelling system within the composition.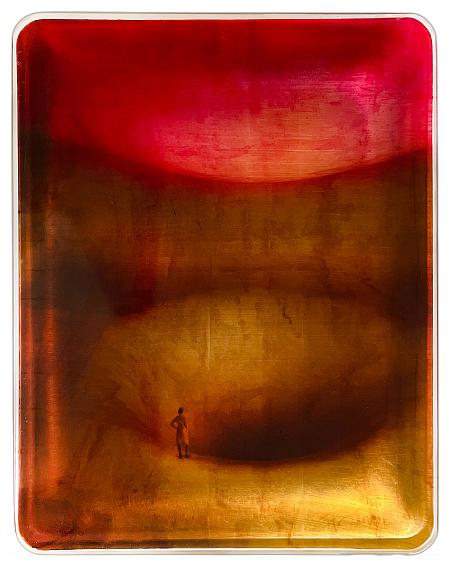 Giovanni Castell

Ausstellung: 17. November 2023 bis 12. Januar 2024
Eröffnung und Künstlergespräch: Freitag, 17. November, 18 Uhr
Im Obergeschoss der Galerie zeigen wir neue Arbeiten von Giovanni Castell (*1962 München). Die technisch vielschichtigen Siebdrucke auf Epoxidharz muten wie leuchtende Gemälde an, die mit Hilfe der Fotografie auf den Bildträger gebannt werden. "Das Licht ist für mich ein Symbol für Liebe, Hoffnung und Erlösung, um in dieser finsteren Welt wieder eine Orientierung zu finden"", betont Giovanni Castell.

Die intensiv schimmernden Farben und der dreidimensionale Bildaufbau verleihen den Werken eine blendende Strahlkraft und eine Illusion von Räumlichkeit. Sie stellen unsere Sehgewohnheiten in Frage und evozieren gleichzeitig eine Art Nostalgie, die in unserem kulturellen Gedächtnis begründet liegt. Bilder voller Intensität und hoher emotionaler Kraft erinnern an eine ideale Welt, durchdrungen von Utopien und schöpferischer Gestus, in der figurative Elemente mit abstrakten Landschaften verschmelzen.

Die bewusste Nähe zur Malerei offenbart Giovanni Castell Bewunderung für den US-amerikanischen Maler Mark Rothko. Dieser gilt als Wegbereiter der Farbfeldmalerei, die sich mit den Erscheinungsformen der Farbe und deren Einordnung in ein stringentes System im Bild beschäftigt.