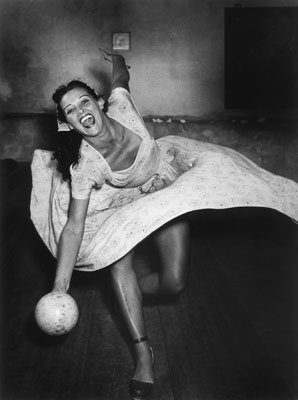 Hannes Kilian 1909-1999
Anlässlich des 100. Geburtstages
Exhibition: 4 Apr – 23 May 2009
Johanna Breede
Fasanenstr. 69
10719 Berlin


Johanna Breede PHOTOKUNST
Fasanenstr. 69
10719 Berlin
+49 (0)30-88913590
photokunst@breede.de
www.johanna-breede.com
Tue-Fri 11-17, Sat by appointment
Concurrent with the first ever major retrospective of Hannes Kilian, presented by Berlin's Martin Gropius Bau, Johanna Breede and Gundel Kilian collaborate to present an exhibition of this photojournalist's seminal work.  In honor of his 100th birthday, this exhibition brings together exceptional examples of Kilian's unique, personal, visual reflections, including some previously unpublished images.  Kilian conferred his atypical flair for the phenomenon of movement to the heart of his still, photographic images.  His subjective way of seeing and his talent to freeze a single moment of fate, in all her extensive complexity, made him one of the most successful photojournalists of the 20th century image.

Kilian began his photographic career solely producing personal work for himself. Later, as a freelance journalist, he began to work for newspapers and magazines eventually working for publications such as TIME and the Picture Post, Spiegel and Stern.  In a period just over fifty years, and with a massive photographic oeuvre, Kilian secured himself a place amongst the greatest chroniclers of the 20th Century.

This exhibition displays a small, significant cross-section of Kilian's extensive body of work from 1937 - 1987.
Zeitgleich zur ersten umfangreichen Retrospektive im Berliner Martin Gropius Bau präsentiert Johanna Breede in ihren neuen Galerieräumen eine in Zusammenarbeit mit Gundel Kilian konzipierte Ausstellung - anlässlich des 100. Geburtstages des Fotografen.

Gezeigt werden eindrucksvolle, teilweise bisher unpublizierte Aufnahmen des Bildjournalisten Hannes Kilian, Spiegelbilder seiner ganz persönlichen Wahrnehmung. Mit seinem außergewöhnlichen Flair für das Phänomen der Bewegung hat er es verstanden, dem statischen fotografischen Bild Schwung zu verleihen. Seine subjektive Sichtweise auf die Dinge und seine Begabung, Momente festzuhalten oder Schicksale in ihrer umfangreichen Vielschichtigkeit aufzuspüren, prägen seine Arbeiten und machen ihn zu einem der erfolgreichsten Bildjournalisten des 20. Jahrhunderts.

Zunächst hat er einfach nur seine Arbeit getan; als freier Bildjournalist hat er für Tageszeitungen und später auch für Magazine wie TIME Magazine und Picture Post, Spiegel und stern fotografiert. Dabei ist er zu einem der wichtigsten Chronisten des 20. Jahrhunderts avanciert. In einen Zeitraum von mehr als 50 Jahren entstand ein gigantisches fotografisches Ouvre.

Die Fotoausstellung zeigt vom 04. April bis 23. Mai einen kleinen Querschnitt seines umfangreichen Schaffens von 1937 - 1987.