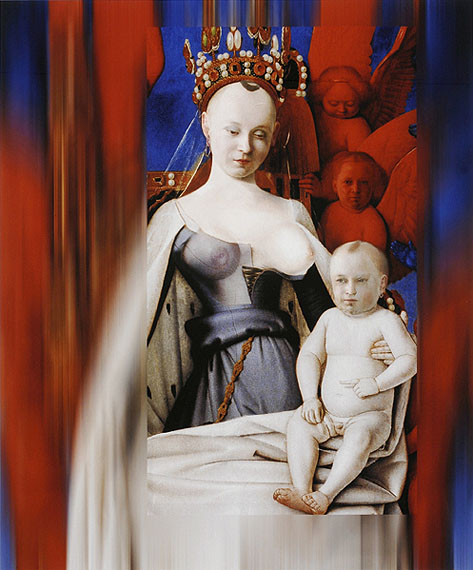 Minne mich gewaltig/Ah, Lord love me passionately
Exhibition: – 31 Aug 2013
Wed 20 Mar 18:00
Teutloff Museum
Weißenburger Str. 25
33607 Bielefeld
+49 (0)521-1368816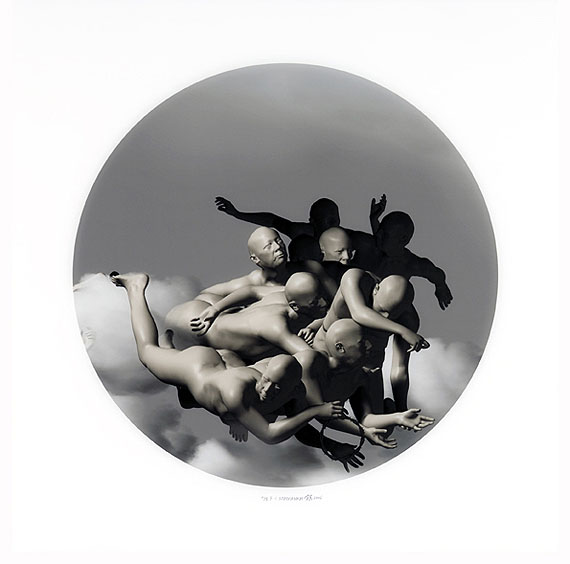 The TEUTLOFF MUSEUM, THE FACE OF FREEDOM® invites to the next exhibition

"Ah Lord, love me passionately" – Images of Bodies & Religion
Curated by Prof. Dr. Siegfried Zielinski, Academy of the Arts and University of the Arts Berlin

The exhibition will be shown in cyberspace on our website www.teutloff-museum.net from March 20th through to August 31st 2013.

The real-world exhibition is on view from 20–25 March 2013 when the TEUTLOFF MUSEUM is the guest at the Altstädter Nikolaikirche Bielefeld, Niedernstraße 4.

Opening: 20th of March, 6:00 pm
In his first address, the new Pope Francis 1 has announced that he will pay particular attention to promoting dialogue between religions, in other words to seeking reconciliation not only between the various communities of the Christian faith but also with Islam. This is the context mirrored by our exhibition.

The background to this exhibition

God does not have a body. God is metaphysical, a conception, the ultimate idea, a projection, a concept for explaining the world. The louder the voices that proclaim God is dead become, the more the divine seems to be immanent in our thoughts and feelings. God does not express himself to us through any arbitrary body and certainly not through our own body. God speaks to us through the body of the Other, through the body of someone who is not the same as us. Through this body God smiles at us, provided we are capable of recognizing his smile.

This is the primordial world of art. Art does not exist in order to explain what is alien to us, what we cannot understand, what is greater than ourselves. Art is there to make us attuned to what is beyond our comprehension, what is in no way identical to us. To become art the work must contain something that makes it radiant for the viewer, something that triggers an emotionally charged dialogue with the work in which states such as contemplation, horror or happiness become palpable. It has to make us more aware of the world in which we live and to make our responses to it more sensitive.

Like a passionate dedicated explorer, for decades now the art collector Lutz Teutloff has focused his energies on one sole field of interest: the human body in all its endlessly fascinating, multifarious appearances and portrayals in art, especially the art of photography. Many of the images of bodies reveal a charged relationship to the scared, the holy, the religious in a variety of forms. This may well have to do with the fact that Lutz Teutloff is a religious man, but it may equally well be connected to the fact that for many artists the presence of the divine in the artistic reality of their work is of crucial importance.

"Ah Lord, love me passionately" – This fervent plea of longing by the medieval mystic Mechthild of Magdeburg encapsulates her deeply passionate relationship to God. The unique pairing of infinite love for God and eroticism in the written works of the high churchwoman of the late Middle Ages serves as the point of entry to our notional architecture of an exhibition.
Taking the number seven, which is of such prime importance for the Judaeo-Christian myth of the creation, we construct seven imaginary spaces with works from the Teutloff Collection to exemplify the rapport between the human body and religion in all its fascinating complexity.

1.) Sublime Bodies – Holy Bodies
Chi Peng (China), Chester Higgins (USA), James Nachtwey (USA), Richard Stipl (Canada)

2.) Angelic Bodies – Spiritualised Bodies
Volker Hildebrandt (Germany), Osvaldo Romberg (Argentina/USA), Brian Finke (USA), Lynn Hershman (USA), Danica Dakic (Jugoslawia), Aziz + Cucher (USA), Miao Xiaochun (China), Michael Najjar (Germany), Una Szeemann (Switzerland)

3.) Dignity & Death
Dieter Appelt (Germany), Erwin Wurm (Austria), Raimund Kummer (Germany), Larry Towell (USA), Dario Mitidieri (Italy), João Silva (Portugal)

4.) Children of God
Monika Czosnowska (Poland), Margie Geerlinks (Netherlands), Katharina Bosse (Germany), Marie-Jo Lafontaine (Belgium), Dario Mitidieri (Italy), Abbas (Iran), Mario Cravo Neto (Brazil), Michael Najjar, (Germany), Jane Evelyn Atwood (USA)

5.) Sacrifice / Victim (Bodies)
Hilmar Pabel (Germany), Pilip Rantzer (Israel)

6.) Madonna
Nan Goldin (USA), Stefan Moses (Germany), Richard Hamilton (USA), Lynn Hershman (USA), Larry Towell (USA)

7.) Symbols & Rituals
Elke Krystufek (Austria), Alfredo Jaar (USA), Hermann Nitsch (Austria)


We would like to thank the StadtKirchenArbeit at Altstädter Nikolaikirche and the Rev. Armin Piepenbrink-Rademacher for their kind assistance and support.

Sponsored by: Edellmetall Kontor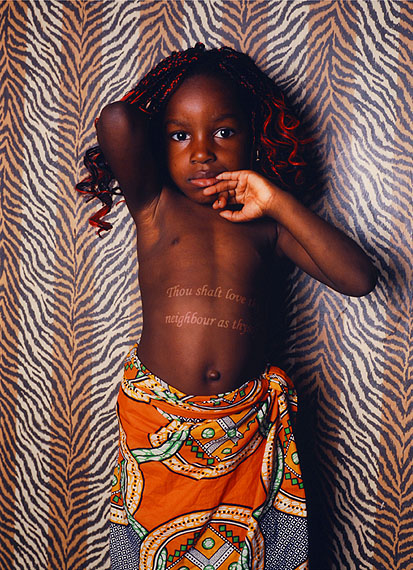 Im Rahmen unserer Ausstellungsreihe des
TEUTLOFF MUSEUM, THE FACE OF FREEDOM® laden wir ein zu

Minne mich gewaltig – BildKörper & Religion
Kuratiert von Prof. Dr. Siegfried Zielinski, Akademie der Künste und UdK Berlin

Die Ausstellung wird, wie gewohnt, virtuell auf unserer Website www.teutloff-museum.net
vom 20. März bis 31. August 2013 dreidimensional erlebbar sein.

Darüber hinaus wird die Ausstellung aber auch ganz real vom 20. – 25.3.2013 zu besuchen sein.
Das TEUTLOFF MUSEUM ist zu Gast in der Altstädter Nikolaikirche Bielefeld, Niedernstraße 4.
Der neue Papst Franziskus I. hat in seiner ersten Ansprache verkündet, ein besonderes Augenmerk auf die Ökumene zu richten, d.h. nicht nur zwischen den christlichen Kirchen, sondern auch mit dem Islam den Ausgleich zu suchen. Wir spiegeln diesen Zusammenhang mit unserer Ausstellung.

Die Idee zur Ausstellung

Gott hat keinen Körper. Gott ist Metaphysisch, eine Vorstellung, die Idee schlechthin, eine Projektion, ein Konzept zur Welterklärung. Je lauter die Stimmen sind, die Gott totsagen, umso anwesender scheint das Göttliche in unserem Denken und in unserem Fühlen zu sein.
Gott artikuliert sich für uns nicht durch irgendeinen x-beliebigen und schon gar nicht durch unseren eigenen Körper. Gott spricht zu uns durch den Körper des Anderen, durch den Körper dessen, der nicht mit uns identisch ist. Durch ihn lächelt uns Gott an, vorausgesetzt, wir vermögen sein Lächeln zu erkennen.

Das ist die ureigenste Welt der Kunst. Sie ist nicht dazu da, das zu erklären, was uns fremd ist, was wir nicht verstehen können, was größer ist als wir selbst. Kunst ist dazu da, uns für das Unbegreifliche, das, was auf keinen Fall mit uns identisch ist, feinfühlig zu machen. Um Kunst werden zu können, muss etwas darin enthalten sein, was das Werk für den Betrachter zum Strahlen bringt, was den spannungsreichen Dialog ermöglicht, die Versenkung, das Erschrecken, das Glück sinnlich erfahrbar macht. Es muss unsere Sensibilität in der Welt und gegenüber der Welt erhöhen.

Wie ein passionierter Forscher konzentriert sich der Sammler Lutz Teutloff seit Jahrzenten auf ein besonderes Thema: den Körper in der unendlichen und faszinierenden Mannigfaltigkeit seiner Erscheinungen und Inszenierungen in der Kunst, insbesondere der Fotografie. Viele der einzelnen BildKörper stehen in einem spannenden Verhältnis zum Sakralen, zum Heiligen, zum Religiösen. Das mag seine Ursache darin haben, dass Lutz Teutloff ein gläubiger Mensch ist, es liegt aber auch daran, dass für viele Künstler die Anwesenheit des Göttlichen in der künstlerischen Realität ihres Werkes von hoher Wichtigkeit ist.

"Minne mich gewaltig!" Mit diesem heftigen Appell des Begehrens formulierte die Mystikerin Mechthild von Magdeburg im Spätmittelalter ihr von tiefer Leidenschaft geprägtes Verhältnis zu Gott. Die einmalige Synthese von unendlicher Gottesliebe und Erotik, die sich in den Werken der späteren hohen Kirchenfrau ausdrückt, bildet das Entré in unsere fiktive Architektur einer Ausstellung. Gemäß der für den Schöpfungsmythos so wichtigen Zahl 7 lassen sich aus der Teutloff Collection 7 imaginäre Räume bilden, in denen sich das Spannungsverhältnis von BildKörper und Religion ausgestalten lässt:

1.) Erhabene Körper / Körper des Heiligen
Chi Peng (China), Chester Higgins (USA), James Nachtwey (USA), Richard Stipl (Kanada)

2.) Engelskörper / Vergeistigte Körper
Volker Hildebrandt (Deutschland), Osvaldo Romberg (Argentinien/USA), Brian Finke (USA), Lynn Hershman (USA), Danica Dakic (Jugoslawien), Aziz + Cucher (USA), Miao Xiaochun (China), Michael Najjar (Deutschland)

3.) Würde & Tod
Dieter Appelt (Deutschland), Erwin Wurm (Österreich), Raimund Kummer (Deutschland), Larry Towell (USA), Dario Mitidieri (Italien), João Silva (Portugal)

4.) Kinder Gottes
Monika Czosnowska (Polen), Margie Geerlinks (Niederlande), Katharina Bosse (Deutschland), Marie-Jo Lafontaine (Belgien), Dario Mitidieri (Italien), Abbas (Iran), Mario Cravo Neto (Brasilien), Michael Najjar (Deutschland), Jane Evelyn Atwood (USA)

5.) Opfer (Körper)
Hilmar Pabel (Deutschland), Philip Rantzer (Israel)

6.) Madonna
Nan Goldin (USA), Stefan Moses (Deutschland), Richard Hamilton( USA), Lynn Hershman (USA), Larry Towell (USA)

7.) Symbole & Rituale
Elke Krystufek (Österreich), Hermann Nitsch (Österreich)

Die Ausstellung entstand in freundlicher Zusammenarbeit mit der StadtKirchenArbeit an der Altstädter Nikolaikirche und Pfarrer Armin Piepenbrink-Rademacher.

Mit freundlicher Unterstützung von Edelmetall Kontor