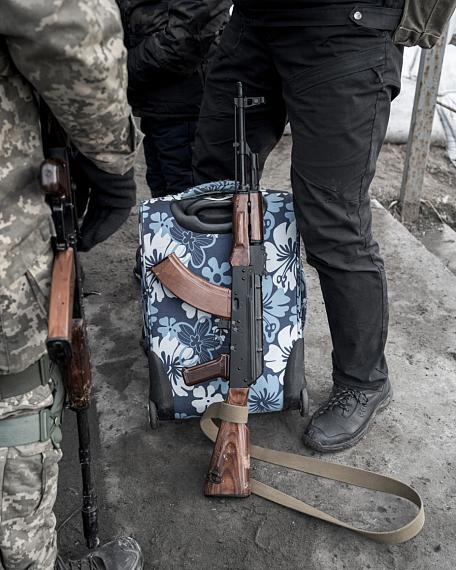 A Grave in the Garden
Exhibition: – 25 Feb 2023
Tue 17 Jan 18:00

ARTCO Aachen
Seilgraben 31
52062 Aachen
+49 (0)241-40126750
info@artco-art.com
www.artco-art.com
Thu-Fri 13-18 . Sat 11-17 + b.a.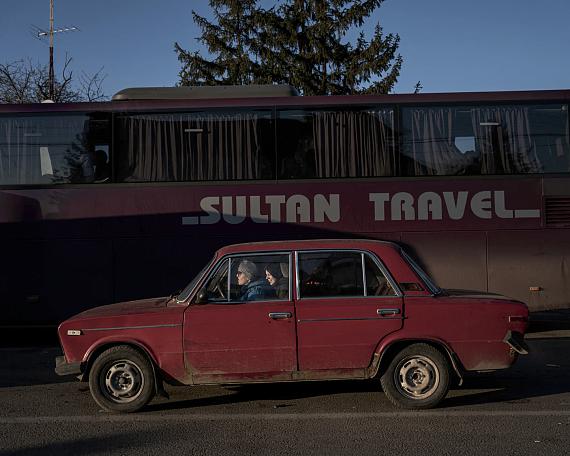 Johanna-Maria Fritz
"A Grave in the Garden"

Exhibition: 17 January – 25 February 2023
Opening: Tuesday, 17 January, 6pm
"When the war in Ukraine started on 24.02.2022, I was still in Afghanistan. The news shocked me, of course, and I immediately thought about how and when I could travel to Ukraine. On Sunday, 27 February, I set off together with other journalists in the direction of Kyiv.

Via Lviv we drove into the unknown, we didn't really know what the situation was like in Kyiv and were spontaneously allowed to accompany an escort with the famous waistcoats and helmets from Germany. We drove quickly and always with a police escort from the respective region. We stayed in and around Kyjiw for a fortnight and concentrated heavily on Irpin. Later we also visited Vasylkiw and other surrounding towns.

But the places in the north remain strongly in my mind. Especially Butscha: one day after the liberation, we were almost the first journalists to visit the place. The people were happy about the end of the occupation, but the wounds of war were still present at every corner. Killed and executed Ukrainians lay everywhere on the streets, in houses, gardens or cellars. It was only after the liberation that the inhabitants of Butscha understood the extent of the terror and so there were many exhumations in gardens and burials in the cemetery every day."

Johanna-Maria Fritz officially lives in Berlin - but in reality she is on the road all year round. She studied photography at the Ostkreuzschule and has been a member of the agency of the same name since the beginning of 2019. Her photos have been published in Spiegel, Zeit, National Geographic and Newsweek China, among others, and most recently in Stern and GEO. She has been awarded the Inge Morath Prize, the Lotto Brandenburg Prize and the VG-Bild Scholarship for her work.

She has exhibited all over the world: from Australia to France, Germany and Switzerland, as well as in China and the USA.

The works shown here were created in the first months of the war in the Kyiv region, in Irpin and Butscha. Since the beginning of November, Johanna has been travelling again in Ukraine to document the consequences of the war, most recently in the Donbas and at the turn of the year in Kyiv.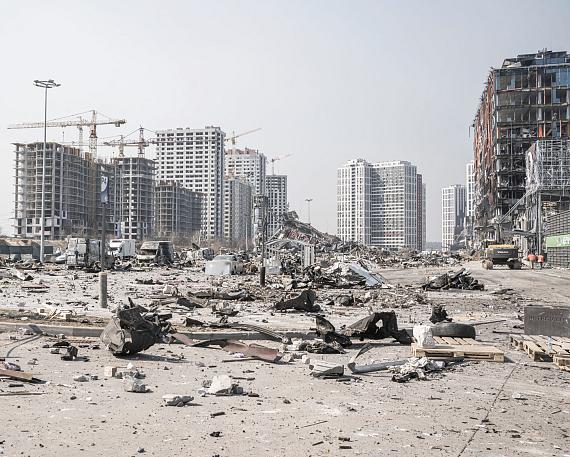 Johanna-Maria Fritz
"A Grave in the Garden"

Ausstellung: 17. Januar bis 25. Februar 2023
Eröffnung: Dienstag, 17. Januar, 18 Uhr
"Als der Krieg in der Ukraine am 24.02.2022 begann, war ich noch in Afghanistan. Die Nachrichten schockierten mich natürlich und ich überlegte sofort, wie und wann ich in die Ukraine fahren könnte. Am Sonntag, den 27.02. fuhr ich gemeinsam mit weiteren Journalist:innen los Richtung Kyjiw.

Über Lwiw fuhren wir ins Ungewisse, wir wussten nicht wirklich, wie die Situation in Kyjiw war und durften spontan eine Eskorte mit den berühmten Westen und Helmen aus Deutschland begleiten. Wir fuhren rasch und immer mit einer Polizeieskorte der jeweiligen Region. Wir blieben zwei Wochen in und um Kyjiw und konzentrierten uns stark auf Irpin. Später besuchten wir auch Wassylkiw und andere umliegende Städte.

Doch die Orte im Norden bleiben stark in meinem Kopf. Vor allem Butscha: Wir waren einen Tag nach der Befreiung fast die ersten Journalist:innen, die den Ort besuchten. Die Menschen waren froh über das Ende der Besatzung, doch die Wunden des Krieges waren noch an jeder Ecke präsent. Überall lagen getötete und exekutierte ukrainische Menschen auf den Straßen, in Häusern, Gärten oder Kellern. Erst nach der Befreiung begriffen die Bewohner:innen von Butscha das Ausmaß des Terrors und so gab es jeden Tag viele Exhumierungen in Gärten und Beerdigungen auf dem Friedhof."

Johanna-Maria Fritz wohnt offiziell in Berlin - in Wirklichkeit aber ist sie das ganze Jahr über unterwegs. Studiert hat sie Fotografie an der Ostkreuzschule und ist seit Anfang 2019 Mitglied der gleichnamigen Agentur. Ihre Fotos wurden u.a. im Spiegel, der Zeit, National Geographic und Newsweek China veröffentlicht, ganz aktuell im Stern und im GEO. Für ihre Arbeiten wurde sie mit dem Inge-Morath-Preis, dem Lotto Brandenburg Preis und dem VG-Bild Stipendium ausgezeichnet.

Ausgestellt hat sie schon auf der ganzen Welt: Von Australien über Frankreich, Deutschland und der Schweiz sowie auch in China und in den USA.

Die hier gezeigten Arbeiten sind in den ersten Kriegsmona- ten in der Kyjiw Region, in Irpin und Butscha entstanden. Seit Anfang November ist Johanna wieder in der Ukraine unterwegs, um die Folgen des Krieges zu dokumentieren, zuletzt im Donbas und zum Jahreswechsel in Kyjiw.